ALBUM OF THE DAY
Star Feminine Band, "In Paris"
By Megan Iacobini de Fazio · September 20, 2022
​
​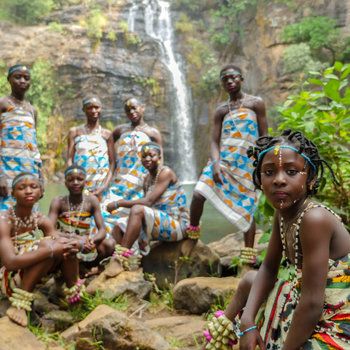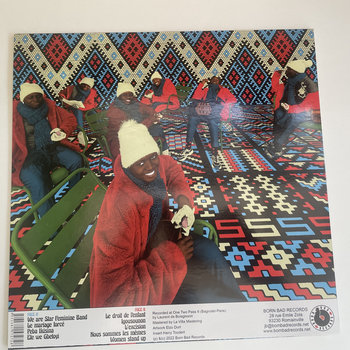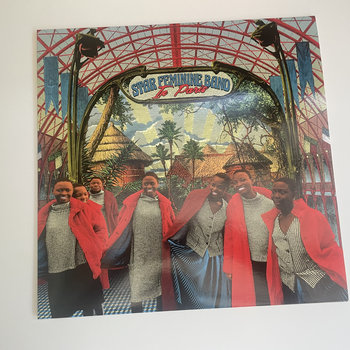 .
00:10 / 00:58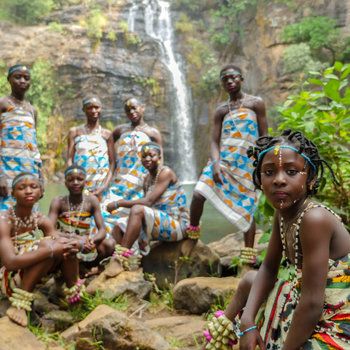 Merch for this release:
Vinyl LP, Compact Disc (CD)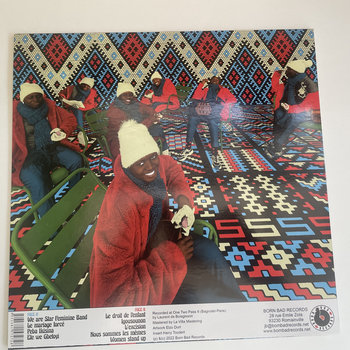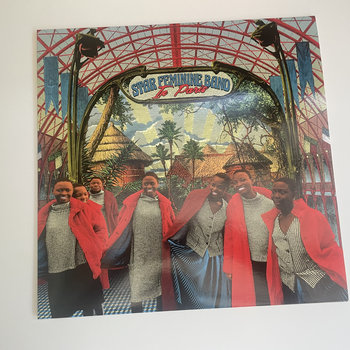 It's hard to grasp just how far the seven young members of Star Feminine Band have come since they first picked up their instruments in 2016. Now aged between 12 and 18, Sandrine, Grace, Julienne, Anne, Angélique, Urrice, and Marguerite have gone from never having played music to releasing two albums and playing some of Europe's biggest festivals, all in the space of six years.
Their story starts in Natitingou, a town in Northern Benin, when Andrè Balaguemon, a local musician and social worker, decided to form a girls' band to tackle some of the issues he observed in his community, from forced marriage to a disparity in education and meaningful employment opportunities for women. In that region of Benin, where music—especially when delivered with the girls' spunky, rock 'n' roll verve—is usually reserved to men, establishing Star Feminine Band was in itself an act of defiance.
After responding to a call on local radio, the aspiring musicians (some of whom had never held an instrument before) began an intense program of musical training—all while remaining in school, since making sure they completed their formal education was an important part of the project.
Considering the idea behind their genesis then, it's no surprise that many of their songs deal with themes of justice, equality, and empowerment: On their 2020 self-titled debut, the girls sang in Waama about the importance of girls' education on the whirling, psychedelia-tinged "Peba," while the Peul-language lyrics of "Rew Be Me" celebrate women and encourage them to succeed.
These themes carry over to their sophomore album In Paris, wrapped in an ebullient mix of highlife, Afrobeat, Congolese rumba, and styles from northern Benin like vodun and the faced-paced rhythms of sato. "Le Mariage Forcé" for example, is a message to African parents about the injustice of forced marriage, with lyrics like, "Forced marriage prevents our evolution/ By making us slaves of the home," which are delivered over bouncing rhythms and catchy organ riffs. Julienne Sayi's slick basslines and Marguerite Kpetekoute's pounding drums provide a solid springboard for Anne Sayi's guitar, which in the last third of the song, breaks into a distinctly Congolese seben (the extended solos or instrumental bridges typical of Congolese rumba, that get people up and dancing).
On "L'excision" the band protest female genital mutilation over rattling, clanging rhythms, turning up the energy with their ululations and call-and-response vocals, while on the scorching "Le droit de l'enfant" they demand that children's rights always be respected.
In Paris also sees the girls singing in English, adding the French, Waama, Ditamari (two languages from the North), Bariba, and Fon (two of Benin's main languages), such as on opener "We Are Star Feminine Band", which erupts with a barrage of drums, xylophone, and percussion polyrhythms, or the more subdued, melodic "Woman Stand Up."
Given their age and story, it would be easy for a band like Star Feminine Band to risk slipping into gimmick territory, but their musical abilities, youthful energy, and impassioned delivery keep them far from it. Whether it's their musicianship, the urgency of their messages, or their meteoric rise, it's clear that Star Feminine Band are a force to be reckoned with.