ALBUM OF THE DAY
Special Interest, "Endure"
By Kerry Cardoza · November 09, 2022
​
​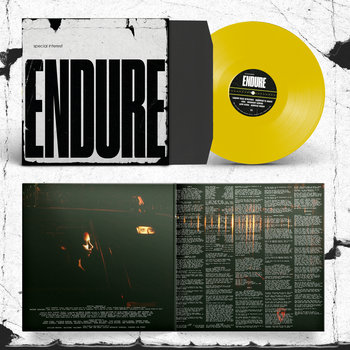 .
00:10 / 00:58
Merch for this release:
Vinyl LP, Compact Disc (CD)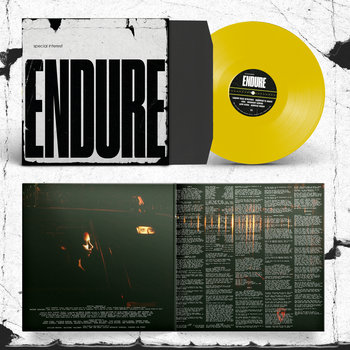 Like Beyoncé, whose recent Renaissance felt like an invitation to get together and move our bodies, New Orleans punks Special Interest have an uncanny ability to read the room. Endure, the band's third full-length, serves up 11 tracks made for dancing, whether that's in the pit of a basement show, in your bedroom, or in the wee hours at some warehouse club.
Thick, buzzsaw bass lines from Nathan Cassiani, dissonant guitar from Maria Elena, and Ruth Mascelli's pounding drum-machine beats and shrill synth sounds crop up again and again, as on the electrifying opening track "Cherry Blue Intention." A sexy, quixotic ode to pleasure, the song is upbeat and catchy, ending with an emphatic lip-smack. "Foul" is one of the tensest offerings, with sinister bass and dueling vocals that spew out late capitalist buzzwords in poetic bursts, describing the common plight of being overworked and undervalued.
"Midnight Legend" is stunningly expansive, a paean to a world-weary club queen that all the girls are jealous of. The band's frontperson Alli Logout  who is also a filmmaker, directed a slick, highly stylized video to accompany the song—which includes the added treat of a Mykki Blanco verse. That expansiveness is echoed on the eight-minute closing track "LA Blues," a thumping slow burn. Here, Logout stretches their vocal range from a deep and soulful croon to a whimsically high falsetto.
Special Interest is strikingly coherent on this record, their first for Rough Trade. The world that the band depicts is often grim, with violence in the streets and vapid trust fund "artists" sucking all the air out of the room. On the aggressive, radical "Concerning Peace," featuring a siren as a backing sound and distorted vocals, violence is offered as "the only tool/ Against indignity" in a fascist regime where life is worth less than property. Despite this gritty realism, glimmers of hope still manage to peek through, positing that change is actually possible. "Burn it down to build it again," Logout howls on the disco-tinged dirge "(Herman's) House," pledging not to lose themself in a world "that wants my end."
Endure is a fitting title for a record this year, as COVID-19 continues and myriad societal tragedies continue to pile up—not least the renewed war on queer people, women, and people of color. On their website, Special Interest states their desire "to dismantle genre," a goal that they surely accomplish here—bringing in elements of no wave, glam, synth punk, industrial, disco, and house. But just as critical is their crystal clear vision; the feeling one gets when listening to Special Interest is that they're creating the exact music they want. There's nothing to prove, no boxes to check. In a recent interview, Logout explains that the reason they write music and play shows is because they want to: "I refuse at this point in my life to be doing something that I don't love." It feels like a gift to be granted access—to be reminded, as in the closing song, that there is meaning to be found in taking things day by day, in feeling pain, and still believing that things will change.