ALBUM OF THE DAY
Sonic Liberation Front, "Justice – The Vocal Works of Oliver Lake"
By John Morrison · June 08, 2022
​
​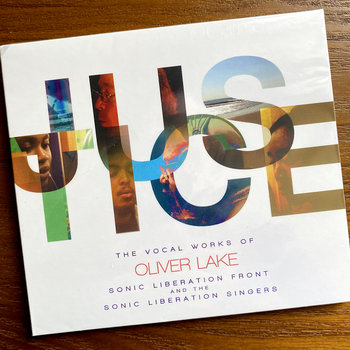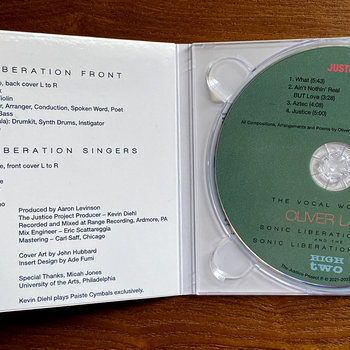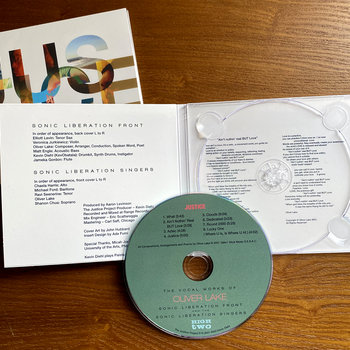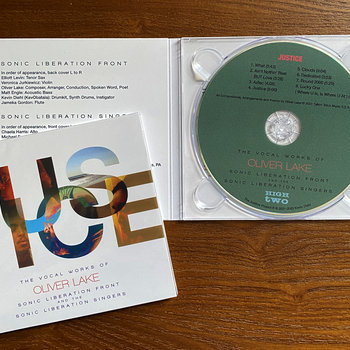 .
00:10 / 00:58
Merch for this release:
Compact Disc (CD), Vinyl LP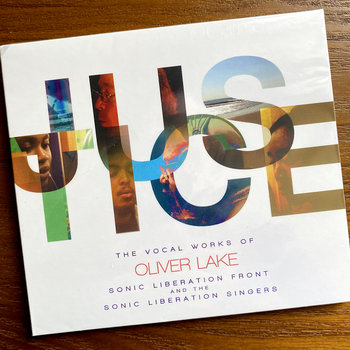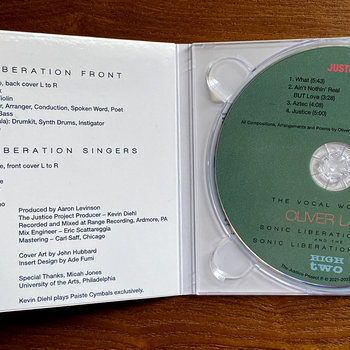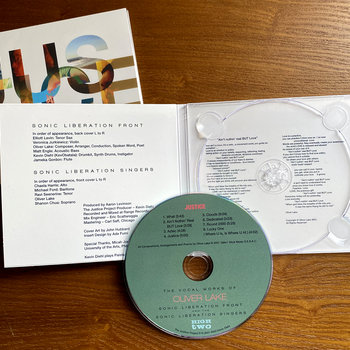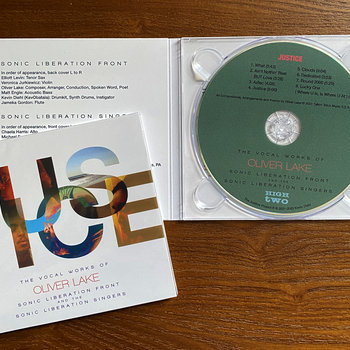 For over 50 years, Arkansas-born saxophonist and composer Oliver Lake has been at the center of some of jazz's most fruitful, collaborative moments. Throughout the '70s, Lake was a member of several avant-garde jazz ensembles like Solidarity Unit Inc., The Human Arts Ensemble, and the Black Artists Group. Throughout the '80s and '90s, Lake performed with the World Saxophone Quartet and recorded sessions with everyone from James Blood Ulmer to Björk. An explosive and imaginative player and composer, Lake's music is a continuation of the spiritual call-to-arms sounded by the originators of the free-jazz movement.
Sonic Liberation Front is a Philadelphia-based ensemble whose music combines Afro-Cuban musical traditions with adventurous free-improvisation. For Justice – The Vocal Works of Oliver Lake, Sonic Liberation Front takes up the task of bringing Lake's first vocal compositions to life. Featuring The Sonic Liberation Singers—a quartet of vocalists affiliated with Philly's University of the Arts—Justice ranges from abstract vocalization to Lake's poetry recitations.
The album opens with "What," a grooving, mid-tempo tune built around Matt Engle's bassline deftly mirrored by harmonizing singers. Veteran Philly free-jazz saxophonist Elliot Levin delivers a playfully searching solo, while Veronica Jurkiewiczs's violin solo is electrifying and nearly psychedelic. "Ain't Nothin' But Love" is a gorgeous, utopian tune about the divine power of love. As the Sonic Liberation Singers lay out a sweet bed of vocal harmonizes behind him, Lake steps to the mic to inform us that "It ain't hard to understand love once you know how it works. Love, the precious gift. Ain't nothin real but love…"
The title track, "Justice," finds the entire ensemble playing together beautifully: drummer Kevin Diehl and Engle lay down a dynamic, ever-shifting rhythmic template over weighty, mournful melodies by Jurkiewicz and flutist Jameka Gordon. Levin's solo here is particularly furious, his scorching, circular lines pushing us to the edge of collapse. It's not all continued momentum, though: "Clouds" is a drifting suite that opens with Diehl soloing on percussion before joining the vocal section. Here, Gordon and Jurkiewicz improvise, making distinct melodic statements while also skillfully interacting with each other.
The album closes on an optimistic, triumphant upswing. "Round 2000" is a rich, understated piece that again finds the singers mirroring Engle's grooving, economical basslines. "Round 2000" seems to flow seamlessly into the album's closer, "Lucky One." The tune's opening melody sets the tone before the rhythm section enters alongside Lake's vivid poem and his detailed cataloging of land, locations, and ancestral memories.
As Lake's first set of compositions that center on the voice, Justice utilizes singing and poetry as humanizing elements that ground the music throughout. As interpreters of Lake's compositions, Sonic Liberation Front brings a musical depth and openness to the proceedings that compliment Lake's pieces. As idiosyncratic as it is spirited and fiery, Justice – The Vocal Works of Oliver Lake is an exciting and intriguing release from Sonic Liberation Front and one of jazz's most unique living voices.