ALBUM OF THE DAY
Shana Cleveland, "Manzanita"
By Mariana Timony · March 13, 2023
​
​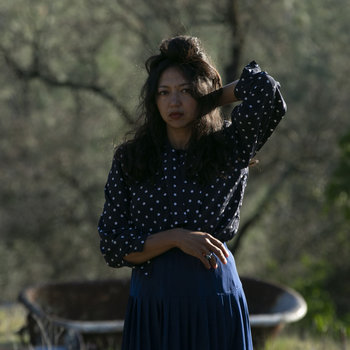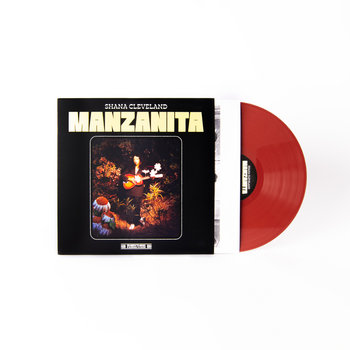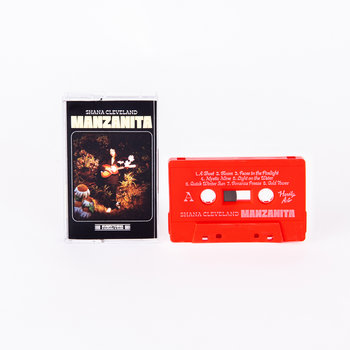 .
00:10 / 00:58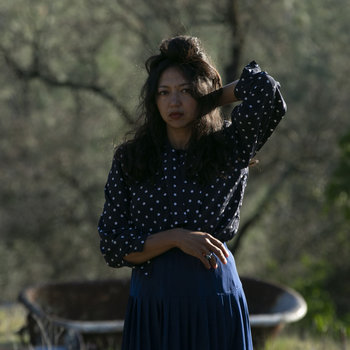 Merch for this release:
Vinyl LP, Compact Disc (CD), Cassette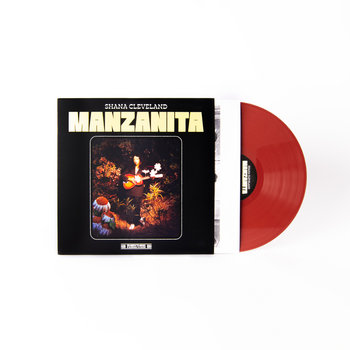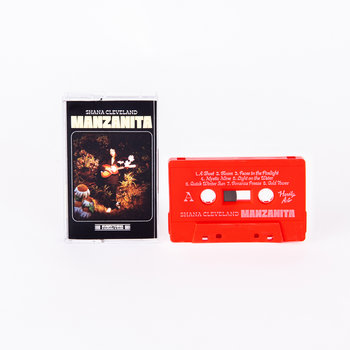 Whether fronting rock band La Luz or on her own with an acoustic guitar, Shana Cleveland has spent her musical career peeking behind the veil of this world, and her oeuvre brims with songs about wandering other realms, communing with creatures who walk beside her unseen, wishing to fade from existence entirely or walk into the sun. But she's thinking differently these days.
"I am a ghost and I'm trying to show you what I do/ Can I come through/ Through you?," Cleveland sings on "A Ghost," the Mellotron-tinged lullaby that opens Manzanita, her second full-length under her own name. The supernatural imagery is typical for Cleveland in addition to being something of a callback to the title track of 2019's Night of the Worm Moon, where she also imagined herself a ghost. But whereas then Cleveland took the point of view of a menacing presence who lurked in the walls and promised that "when I come for you/ I'll freeze your blood," on Manzanita she seeks corporeal passage to a Californian fantasia where love is real and spring returns eternally and the human body is a vessel for the most mystical of things: new songs and new souls.
Motherhood—specifically new motherhood—is the purview of Manzanita. The songs were written while Cleveland was pregnant and immediately after her son's birth—nature's very own side A and side B—and the record is a document of both the creation of a new life and a new way of living. It is also an ode to the rural part of California where Cleveland lives with her son and partner, musician Will Sprott, who contributes keyboards, dulcimer, glockenspiel, harpsichord, and synthesizer to Manzanita (also here are Abbey Blackwell and Johnny Goss on bass, and Olie Eshleman on pedal steel), and where she writes her songs outdoors all year round. As spring returns to the countryside, Cleveland sees in its blooming a reflection of her own life moving from one season to the next.
Like its Worm Moon, Manzanita is psychedelic folk music softly rendered as a Vermeer—you'll hear hypnotic fingerpicking, the squeak of fingers sliding steel strings, the low moan of a cello, chiming bells, warm washes of pedal steel, brushed cymbals, and gently pattering drums—but Cleveland's interpretation of psychedelia has changed, both sonically and spiritually. She's applied lessons learned from the last La Luz record, where time in Adrian Younge's studio led her to the realization that the uncanny crackling of the natural world as it awakens from winter slumber is best conjured by the uncanny nature of synthesized sounds. Augmented at times by low whooshes of white noise, a warbling of dappled keys, or a distant buzzing without an identifiable source, the songs on Manzanita make no meaningful distinction between the real and the surreal. What, Cleveland suggests, is more psychedelic than the sudden appearance of bugs in the bedroom on the first day of spring or catching a glimpse of a departed loved one in the face of her son as she plays her guitar on the porch?
Cleveland has lost none of her predilection for the eerie, though she deploys it to different ends now. "Quick Winter Sun," a tale of being caught out by a short winter's day—notably the only song on Manzanita set in that season and one that feels less overtly Californian than inspired by British folk acts of the 1960s—turns post-apocalyptic mid-way through. "Look, we're the last humans," she sings, describing a fumbling walk down a trail in the dark as swallows return to "their houses of mud." On the spoken word interlude "Ten Hour Drive Through West Coast Disaster," accompanied only by Mellotron, Cleveland juxtaposes seeing flames over Mount Shasta and "cattle farms out of horror films" with the appearance of rainbows refracted by crystals in a waterfall, her son laughing in her ear—joy and terror existing in the same place. "Will you find a way to love this world?" she wonders.
Yet as much as Manzanita is a record about the outdoors, it shines in its depictions of interior spaces, which often feel more fantastical than the Californian wilderness where the record is otherwise set. "Gold Tower" is perhaps Manzanita's apex in this respect, a love song from expectant mother to unborn child so intimate it feels a privilege to be allowed to hear it. Cleveland conjures a world within a world, a liminal meeting place for two on a still night after rain, her voice glowing with emotion as she sings to her "quiet little one made of see-through skin" and marvels at her expanding capacity for love.
The defining characteristic of Cleveland's music has always been its beauty and Manzanita is no different: it is a record of beautiful things and beautiful feelings transposed into beautiful songs beautifully played. But what's new is her sense of serenity. The undercurrent of yearning to know what is unknowable once omnipresent in Cleveland's work has been quelled—"melted with the snow," as she sings on "Gold Tower." The world is no longer a mystery to be solved but simply one to behold and, moreover, one to trust. Where she once fashioned the coming of spring as a precursor to loss, a gift delivered with fingers crossed—"As sure as spring/ Coats our little piece of land in green/ The turning earth takes all of what it brings," goes a verse on the very first La Luz release—now she writes movingly of the what it brings back.