ALBUM OF THE DAY
Secret Shame, "Autonomy"
By Brad Cohan · October 31, 2022
​
​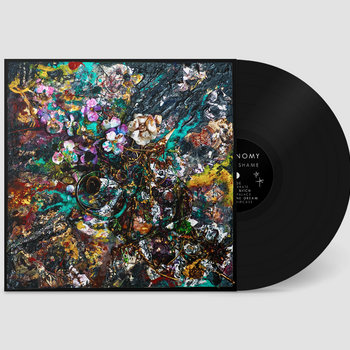 .
00:10 / 00:58
Merch for this release:
Vinyl LP, Compact Disc (CD), Cassette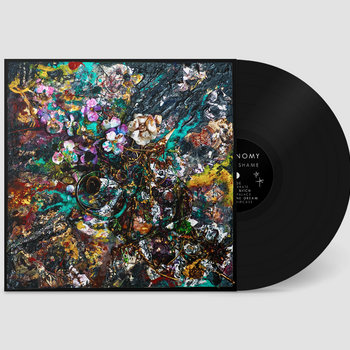 Back in 2019, Lena, vocalist of Asheville, North Carolina-based Secret Shame told Bandcamp Daily of the bottled-up frustrations and anxieties experienced in their day-to-day that helped fuel Dark Synthetics, their debut album. The band's stylish and dissonant brand of sinister, tension-and-release new wave, which drew from a sonic breadth of post-punk, goth, and deathrock, ostensibly soundtracked that existence.
In subsequent years, the world has erupted into a full-blown dumpster fire. Pandemic isolation has coincided with the mainstreaming of transphobia and made even more visible the widespread substance addiction and systemic abuses that have turned this country into a hellscape. On Autonomy, Secret Shame's sophomore full-length, many of those topics figure into Lena's lyrical content, delivered with an impassioned and honeyed snarl, while guitarist Aster, bassist Matthew, and drummer Nathan (the members go by first names only) match their frontperson's naked urgency with supercharged force. The synergy is crystal-clear from the moment the locked-in bass-driven groove of album opener "Hide" kicks in, the synthesizer rises up with thicker flourishes, which add a lush coating that was absent on their debut. Autonomy doesn't let up from there, leaving one breathless from its shoegaze-y mix of melody, rage, and noise.
While the gut-wrenching wordplay of "Hide" explores the demons of mental illness ("Hide in catharsis/ Where illness becomes art/ Cathartic motions lay me bare/ Pedestals tear me apart/ Wasting here/ Wasting here," Lena sings over driving, repetitive riffs cut from the deathrock cloth), Secret Shame sublimely balance out the darkness with hooks-laden, emotive anthems rife with a serious dance music edge. Their synth-splashed, atmospheric bangers suggest the sweaty dancefloor mania of New Order and the electropop goodness of the Chromatics. A ghostly ambiance hovers over Secret Shame's sound world, one that lends David Lynchian vibes. The quartet wouldn't be out of place emerging from the shadowy stage of The Roadhouse to perform the mysterious and taut yet radio-friendly Autonomy standout "Saccharine Dream" to close out an episode of Twin Peaks: The Return (2017) if the iconic series were to embark on another comeback.
Whether putting the pedal to the metal on punkish moshers like "Accelerate," "January," and "Chaining Eris" or dialing down the intensity and navigating heady dream pop, as heard on the aforementioned "Saccharine Dream" and the brutally honest "Zero" (a harrowing crusher about body dysmorphia and other personal struggles), Secret Shame fearlessly tackle sensitive subject matter many are afraid to broach. In the middle of their anthemic, reverb-bathed earworms stands Lena, baring her soul with raw abandon—warmly crooning or wailing her lungs out—and giving a much-needed voice to the struggle of the marginalized.