ALBUM OF THE DAY
SCALPING, "Void"
By Colin Joyce · April 28, 2022
​
​
Merch for this release:
Vinyl LP, Compact Disc (CD), Cassette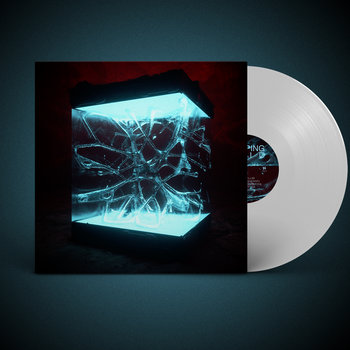 The weight of the world is catching up with SCALPING. The Bristol, UK four-piece has always made music that reflects, at least indirectly, the head-spinning heaviness of existence in the internet era. Since 2017, they've smashed together burning acid beats, the unsettling roar of hardcore, and noise's snowblind static to make songs that are deliberately overwhelming and intense—fitting for a world that has only plunged further into chaos and disorientation in the time since they've been a band.
It's a feeling that remained on their mind as they worked on their debut album Void, as well as its visual accompaniments. Digital artist Jason Baker, who handles all their live imagery and music videos, has always tried to reflect the extremity of the band's music in his animations—but he felt he had to push himself further to match the state of the world around him and the growing intensity of the band's music. In the video for "Flashforward," bodies stretch and squirm, AI faces surveil everyone around, abstract horrors wriggle in the darkness. Baker, in press materials, said this era of their work is about, in part, "the frailty of bodies […] and fears of apocalypse."
These are themes their songs have always been well-equipped to deal with, but the circumstances that produced Void only clarified their intention. Separated by the pandemic for over two years, SCALPING (drummer Isaac Jones, guitarist Nick Berthoud, bassist James Rushforth, and electronics manipulator Alex Hill) were forced to work independently for the first time. While they came up as a live band first, bringing heat and humanity to the Bristol techno scene that birthed them, they made Void with more digital-first techniques—manipulating recordings of their work and samples of their live drums, then eventually learning how to replicate the songs in a live setting.
The process produced a rigidity and sleekness that suits the band's sound, making the EBM terrors of songs like "Cloak & Dagger" feel even more uncanny and unsettling. Electronics obsessives who play live instruments often meditate on the boundaries between man and machine—but on Void, that line is blurrier than ever. "Over the Walls" is a chest-caving techno track that functions like Blade Runner's Voight-Kampff test. What's played? What's programmed? Does it even really matter when the results are so striking?
SCALPING, until now, have largely been an instrumental band, but they invite voices in on Void to make their abstract doom-saying a little more intense. Oakland rapper DÆMON spits about violence and revenge on "Tether," while on "Remain in Stasis," the record's closer, fellow Bristolian artist Grove raps about holding grudges, of the power of filling yourself with hate. Both tracks put a face to the ferocity at the core of the band, which makes it feel even more present, even more real. The choice to have these two artists seethe and spit over the top of these tracks only emphasizes the core message of Void, and SCALPING's work as a whole. While some club kids are content to use the dancefloor as an escape from the worries of the world, SCALPING won't let you check those burdens at the door. They want the rage to fuel you.