ALBUM OF THE DAY
Saint Abdullah & Jason Nazary, "Evicted In The Morning"
By James Gui · February 27, 2023
​
​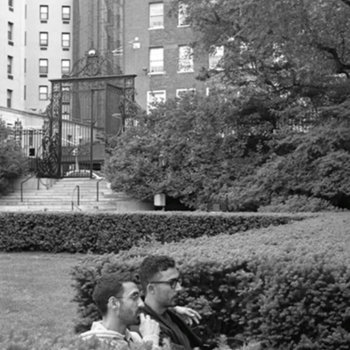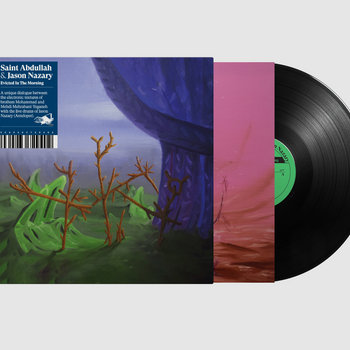 .
00:10 / 00:58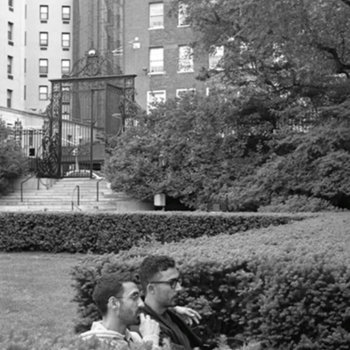 Merch for this release:
Vinyl LP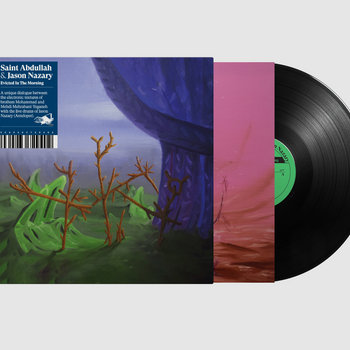 New York-based electronic duo Saint Abdullah have been on a bit of a collaboration kick. But as self-described "cultural translators" in the medium of music, the collaborative format suits them nicely, opening up dialogue in both theme and method. While last year's record Patience of a Traitor with Irish producer Eomac was an explosive clash between Farsi-language samples and distorted rhythms, their sonic conversation with fellow New York-based drummer Jason Nazary in Evicted in the Morning takes a jazzy, ambient turn, choosing not to engage directly with their heritage as they have in the past. Instead, they continue musical threads that they began in 2021 with Model Home on Invasive Inclinations, delving into the bliss of improvisational play.
Model Home's NAPPYNAPPA makes another appearance on "Mirror of Infinity," his impressionistic rapping floating among fragmented piano melodies. NAPPYNAPPA's voice feels like it's wandering within a rift in time, a glitched-out metronome pulse marking out a path to nowhere. United by this aimless feeling, the album plays like an aquatic jazz adventure with Nazary at the helm, charting out rhythmic trajectories that explore Saint Abdullah's ambient sound world. The title track perhaps exemplifies this best, with Nazary laying down a sparse backbeat as Saint Abdullah's synths bubble to the surface. As the track progresses, Nazary locks in his rhythm, letting Saint Abdullah's improvisations take center stage. But on "Insistently, Mystically," their improvisations feed on each other, drum and keyboard competing for space in the mix as they both become more urgent. All the while, an incessant high-pitched beep resembling a sonar pulse goes off in the background, reminding us that we're nowhere closer to our destination. Swedish bassist Petter Eldh brings things back to the surface on "Divine Timing is Intuitive," chugging along what sounds like a train's air horn filtered into an ambient stasis. Their sound ascends further on "The Butcher's Shop," turning cosmic alongside scrambled synths and propulsive snare rolls.
The record's title refers to the increasing precarity of housing in New York (and elsewhere), yet these improvisations generated by the stress of imagining a future in the city offer a remarkable comfort in their ambient meandering. "Stub of a Cucumber" is the record's crowning achievement in that regard, with a soothing synth melody that folds back onto itself like a Möbius strip. Evicted in the Morning may be symptom rather than cure, an album influenced by the global housing crisis, yet its stunning soundscapes offer refuge in an uncertain world.