ALBUM OF THE DAY
Rokia Koné & Jacknife Lee, "BAMANAN"
By Andy Beta · February 15, 2022
​
​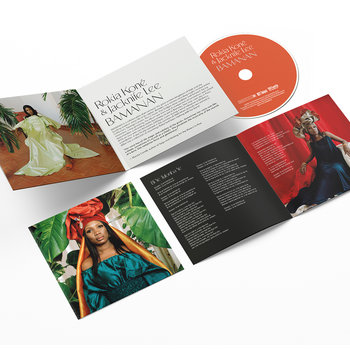 .
00:10 / 00:58
Merch for this release:
Compact Disc (CD), Vinyl LP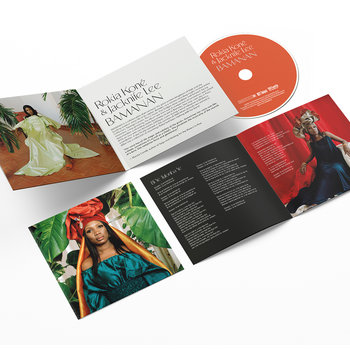 While she was one of the 10 powerful vocalists in the West African supergroup Les Amazones d'Afrique, you could be forgiven for not being familiar with the work of Malian singer Rokia Koné. Being in a group helmed by the legendary Angelique Kidjo can do that. But for anyone who heard her stellar showcases on that supergroup's first two albums, it's welcome news to learn that the "Rose of Bamako" had finally stepped out on her own with her debut album, BAMANAN. That arresting voice—tender one second, lion-like the next—can soar to dizzying highs and growling lows over the span of a single verse. It would have satisfied purists to hear that instrument in as unadorned and traditional a setting as possible.
Yet BAMANAN shoots for the stars with a bold mash-up of tradition and technology, thanks to the rather unlikely pairing of Koné with Irish producer Jacknife Lee. Koné may be a newcomer, but Lee has made a career out of working with big, big names, with producer credits for the likes of U2, Taylor Swift, The Killers, and the last two R.E.M. albums. There may be a fear that a mainstream producer like Lee would opt for bombast over nuance and small details, but the synergy between singer and producer is evident throughout, with Lee always deferring to the song.
That feat becomes even more incredible when you realize that the creative process occurred across three continents. Koné recorded a few songs in her home of Bamako, but some of that music sat on a hard drive in her booking agent's home in Portugal during the pandemic, before making its way to Lee's studio in California. But you wouldn't know it from the rollercoaster of electronic drums and throbbing bass that powers "Kurunba," as Koné matches that velocity with total confidence. Alternately purring, chanting, and wailing through all of the track's contours, she decries the patriarchal customs that diminish women's roles in her homeland. "Mayougouba" sets Koné's delivery into a blur of neon synths and club-ready kicks. Fans of Kidjo's own early '90s forays into house music will find plenty to groove to here, but the song is aimed specifically towards the women: ​​"Move, dance/ You're perfect as you are," she sings in Bamana.
Yet it's when Lee heightens the hush inherent in Koné's songs that proves to be the most affecting. Opener "Bi Ye Tulonba Ye" is declarative yet downtempo, full of shimmering vistas surrounding her. The dreamy chords and filtered whorls of "Bambougou N'tji" give every breath of Koné given plenty of space to enchant. And Lee knows when to disappear completely, as on the spare meditation of "N'yanyan." With only an electric piano to accompany her, Koné recorded the song in one take, right before power in the city went out and a coup d'etat roiled Mali. Her message is clear though: this too will pass.