ALBUM OF THE DAY
Album of the Day: Real Life Buildings, "Significant Weather"
By Cory Lomberg · May 02, 2017
​
​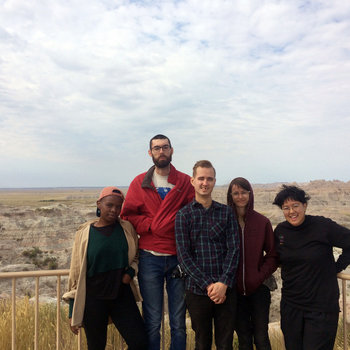 .
00:10 / 00:58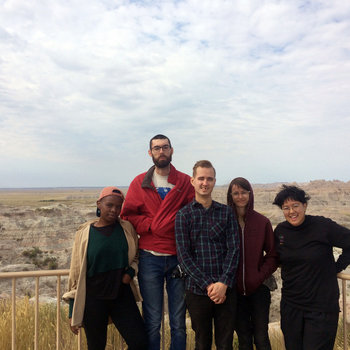 Anxiety knows no contextual bounds. It can appear anywhere, at any time: a daily commute, a verbal or virtual exchange, an unfamiliar space or a seemingly safe one. Sometimes, it's present from the moment you wake up. At moments like these, the only thing harder than identifying why you feel this way is articulating how you feel to others—especially those who love you.
On Significant Weather, Real Life Buildings find the words to convey that unease while keeping things simple and sensitive. That may be because, first and foremost, the members are friends. On their Lauren Records debut, members Jon Appel, Matthew Van Asselt, Griffin Irvine, Elaiza Santos (of Crying and 100%), and Laetitia Tamko (of Vagabon) seem connected both instrumentally and emotionally. Lyrically, they recreate the kind of empathetic exchanges that go down among people you trust.
Several songs from Significant Weather appeared in earlier iterations on the 2014 cassette release It Snowed; at the time, Real Life Buildings was just Van Asselt and Mike Ditrio. Repurposed with a full band, Van Asselt's original compositions swell with climbing riffs, graceful tempo shifts, and a bubbling sense of chemistry. While Van Asselt's steady riffs held their own on the demo of "Thaw," the song leaps into the third dimension on Significant Weather with the addition of Tamko's accompanying guitar and sprightly keys from Santos. The layered guitar work on "Understanding Gravity" recalls Doug Martsch's intricate overdubs from Built to Spill's Keep It Like a Secret.
On "No News," Van Asselt recounts the routine of scrolling through a newsfeed without absorbing its contents. He skims headlines just long enough to know that "each one is worse than the last one." Quieting their instruments and their voices, the band coaxes us to come a bit closer while they share two lines to live by, though when juxtaposed, more closely resemble a contradiction: "All press is good press, but no news is good news."
Direct and simply said, these lyrical remarks offer the most insightful consideration of how to take care of yourself in a time like this—how to find peace in anything when you can find danger in everything.
—Cory Lomberg