ALBUM OF THE DAY
Album of the Day: Portrayal of Guilt, "Let Pain Be Your Guide"
By Zoe Camp · November 30, 2018
​
​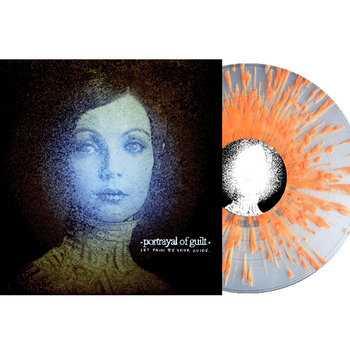 .
00:10 / 00:58
Merch for this release:
Compact Disc (CD), Vinyl LP, Cassette, T-Shirt/Apparel
Austin, Texas' Portrayal of Guilt play screamo from a bygone era, a somewhat-anachronistic soundtrack to the prodigal calm before the storm. The band's grisly amalgam of spindly emo, crusty industrial, and crowd-killing hardcore can be traced to the tail end of the 1990s, before the mid-Aughts emo boom took earsplitting angst mainstream—thereby rendering one of heavy music's most intense, emotionally-charged niche, and by extension, institutional bands like pg. 99. and Circle Takes the Square, synonymous with crab-walking guitarists, crunk-core deviants, and other Hot Topic hellspawn. That said, Portrayal of Guilt's releases so far—several one-off singles, plus a split 7" with industrial upstarts Street Sects—don't exhume their genre's past so much as they expand upon it from a distance, infusing it with the rage of the here and the now.
On their gut-wrenching debut album Let Pain Be Your Guide, Portrayal of Guilt demonstrate their transcendent potential, beyond a shadow of a doubt, in a blinding flash. As far as 20-minute bludgeonings go, it's pretty damn nuanced: the band traffic in tinnitus-inducing powerviolence ("A Burden," "Life Holds Nothing"), industrial ambient ("Let Pain Be Your Guide," "The Hunger,"), nihilistic post-punk ("Your War"), and of course, old-school screamo ("Chamber of Misery Pt. II"). Further adding to the uncompromising spectacle is the album's diverse guest roster; Majority Rule's Matt Michel, Full of Hell's Dylan Walker, and NØ MAN's Maha Shami all take turns at the mic, adding new, cathartic dimensions to the soundscapes, and re-affirming Let Pain Be Your Guide's all-inclusive stance on suffering. And isn't unity in pain what screamo's all about?