ALBUM OF THE DAY
Pardoner, "Came Down Different"
By Mariana Timony · May 14, 2021
​
​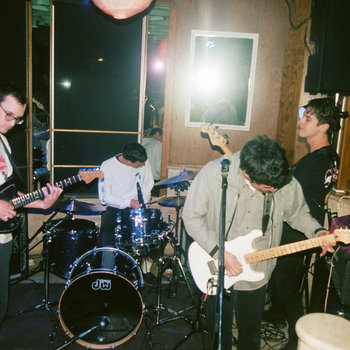 .
00:10 / 00:58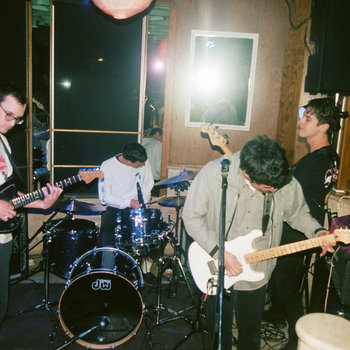 Merch for this release:
Cassette, Vinyl LP
Consider the curious case of Pardoner: an excellent San Francisco rock act who put out the excellent Uncontrollable Salvation way back in 2017 and then…didn't do much of anything. Without any real touring to capitalize on that record's buzz, the band essentially fell off the radar; or, put more unkindly, had their lunch eaten by myriad contemporaries also huffing the fumes of Helium, Pavement, Fugazi, Hüsker Dü, and other such groups who could be called foundational to Pardoner's sound. (More on that later). Pardoner's follow-up record, 2019's self-released Playin' On A Cloud, was fine without being memorable, and didn't show much progression for a band that was already ahead of the curve on the '90s indie rock reappraisal. On top of that, Pardoner guitarist and vocalist Max Freeland up and moved to Canada, so one would be forgiven for having given up on these dudes.
Now, the band that once told Bandcamp Daily that they wanted to make "the funniest record of all time" have pulled quite the prank with third album Came Down Different: their sharpest, most enjoyable record yet, and one that feels refreshingly smart-ass, even for a group as seemingly dedicated to mocking their own existence as Pardoner. Much of Came Down Different deals with Pardoner's ambivalence towards succeeding in the music biz beyond the pleasure of being in a band; but when coupled with their innate ability to find the humor in everything and love of one-liners, the record takes on a self-aware and sardonic tone that's half harsh critique, half "oh well, whatever, nevermind," paired with music that's a study in how to deliver the catchiest songs in the ickiest ways.
After the bleary, discordant pop of opener "Donna Said," Pardoner offers up "I Wanna Get High to the Music," a bright and breezy way-stop on a record that overall leans more towards dynamic squalor. "Losers do it/ There's nothing to it," yelps Freeland over peppy, weaving guitar lines (the friendly-yet-relentless riff contest between Freeland and guitarist Trey Flanigan remains a key component of Pardoner's sound.) One track later, on the epic "Broadway," Freeland's lamenting over draggy, downcast strums: "No one needs me/ I'm a passing fad." But halfway through comes the kicker, riding a blast of ramped-up energy pushed along by frantically pounding drums: "I've been destroyed by life and I feel fucking good!"
Despite the disaffected overtones, there's a sense of urgency underpinning Came Down Different that might partially be due to the circumstances of its making. With the band members (alongside Freeland and Flanigan are River van den Berghe on drums and Colin Burris on bass) no longer living in the same city, the album was recorded in two days with producer Jack Shirley (known for his work with Deafheaven and Jeff Rosenstock, among others) after a month of the group rehearsing and working together to expand on demos Freeland had made in Vancouver. The result is music that feels not unpracticed so much as unstudied—many of the songs are written in a made-up tuning that Freeland happened upon while teaching himself to play Polvo songs.
For all its commitment to tart satire and gross guitar tones, Came Down Different is unburdened by any feeling of the band ever trying too hard, putting it in opposition to the current fashion for rock music that has been mercilessly intellectualized to the point of resembling a standardized test question. It's not that Pardoner haven't put thought into their songs, but more that they recognize that sometimes the best thing to do when the world's on fire and nobody cares about your band is to not overthink things and instead just kick out the jams. "Come on and do what you want/ I threw my cares off a cliff/ I didn't care who it hit," exhorts Freeland on "Bunny's Taxi"—a song in which he also compares sunshine in San Francisco to a dentist's light shining in your mouth before the drill hits—right as the shivery groove descends into an ear-splitting (but still melodic) squall; the anthem of a band who figures they have nothing to lose so going for broke is the only option
Pardoner close out Came Down Different by one-upping music world know-it-alls who will no doubt endeavor to pigeonhole the band via their listing influences, offering up a litany of indie luminary last names for the picking (the track is fittingly entitled "Fuck You!"). "I hope the apple falls far," proclaims Freeland, his vocals slightly off-tune as the guitars twist and squeal. Well, boys, it doesn't; but there's a reason this particular iteration of the sound has stood the test of time: because it's pretty much as good as guitar rock gets. Came Down Different is about as good as rock music gets in 2021—and this time, Pardoner doesn't even need an excuse not to tour for it.