ALBUM OF THE DAY
Mona Demone, "S3RP3NT"
By Andi Harriman · August 29, 2022
​
​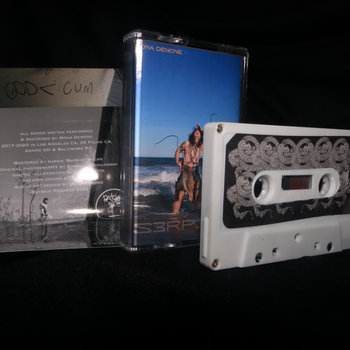 .
00:10 / 00:58
Merch for this release:
Compact Disc (CD), Cassette, T-Shirt/Shirt,
As a multi-dimensional, trans femme artist now based in Akron, Ohio, Mona Demone's work has always been a nurturing cocoon of love and healing. Take 2014, when she hosted Rainbow in the Dark, a cross-country bus tour which documented queer performance artists over a two-month-long journey. This communal spirit remains present in her transformative music productions, both on her 2016 debut EP, OP3N D00RS, and, now, her first full-length LP, S3RP3NT.
Demone, who wrote and recorded S3RP3NT in Los Angeles between 2017 and 2019, states in the album notes that the music is "a call to other trans people, femmes, NB, queers, sex workers, [and] people struggling through capitalism." S3RP3NT's nine songs exude a sense of fearlessness and provide an aural space of both safety and solace in their sweaty communal dance loops and kaleidoscope of gallant, gem-toned melodies. S3RP3NT was written on an ElecTribe ESX-1, and the sampler's simplistic patterns, with tribalistic four-four beats and crisp snares, play on subtle tensions as the energy multiplies. Most of all, Demone's vocals, which float and rise over the music, belong next to Klaus Nomi's new wave operatic octaves or Bronski Beat's Jimmy Somerville, who proudly vocalized his queerness to the masses in the melancholy hit, "Smalltown Boy."
But there's little melancholy to be found on S3RP3NT. Instead, there's comfort in being different—a radiating warmth inside the album's undulating grooves. The opening song "WAKING" is an unbridled gallop, as percussion swells and synths pour over the song's edge. The urgency of Demone's pursuit of strength resonates louder and louder as the album progresses: "Lipstick as armor/ Earrings as shields/ Eyeliner sharper than steel/ As sharp as you feel," her ghostly voice proclaims over the hyper-build of album standout "NO FL3SH."
With the same dynamism found in nightclub spaces, "WAV3RAV3" snatches a moment of uninhibited freedom from the constraints of the world, its percussive layers recalling the hypnotic trance of Chris & Cosey's raw electronic escapades as Demone recalls both the tribulations and victories of those that came before her: "Ancestorial knowledge/ The past that follows/ Informs your cells from the start." "SPIN3" buzzes with passion, as Demone sings, "In your eyes, it's a man with a bent mind/ Undefined by the confines of the flesh that holds us." Though it's barely detectable through the cascade of synth pads, the song is tinged with heartache—emotions are seen, honored, and celebrated.
At its most basic, S3RP3NT feels like it's derived from nature's core elements: water's regenerative power, the cyclic shedding of the skin. Every song delivers a transformational tool for others to follow in Demone's wake, as she accepts the journey in order to arrive at the destination. "I'd sing to everyone," Demone writes in the album notes. "Both on, and about to start their transition, all in their own ways." Demone is a storyteller—a documentarian of sorts—and S3RP3NT is her great work. It is porcelain and fragile—designed for the marginalized people she sings about, from the past, present, and future.