ALBUM OF THE DAY
MJ Noble, "Kind Blade"
By Elle Carroll · June 13, 2022
​
​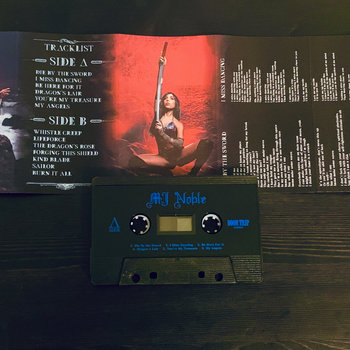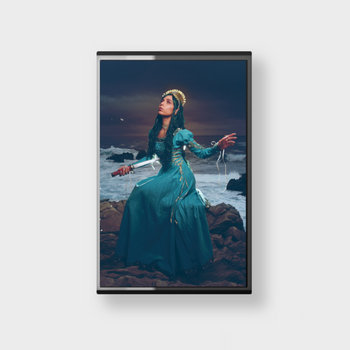 .
00:10 / 00:58
Merch for this release:
Cassette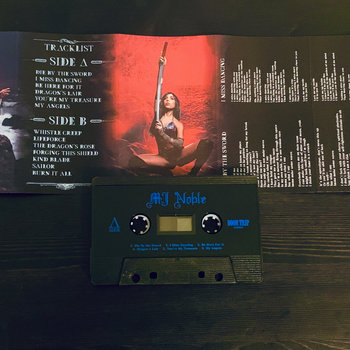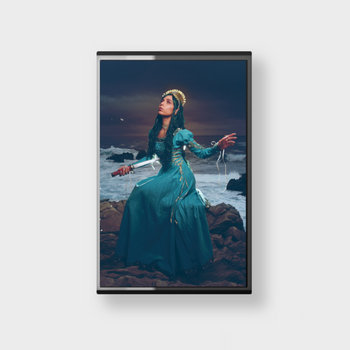 With a knife to her abdomen and her eyes turned towards the heavens, the photo on the cover of MJ Noble's second full-length album Kind Blade evokes a very particular kind of woman, one whose inherently tragic single-mindedness reverberates across centuries of mythology, history, and drama. Ovid's Thisbe falls on the sword belonging to her lover Pyramus, the same one he used to stab himself upon believing she had been killed by a beast. After Tarquin rapes her, the devoted Lucretia compels the men of Rome to vengeance and revolution, then plunges a dagger into her heart. Juliet resorts to the same method upon awakening in the tomb to discover Romeo dead and his poison drained. They do not hesitate to die for love or honor.
The image of this woman in the decisive moment—or, in the moment just prior to the decisive moment—reappears throughout art history and, in its way, through Kind Blade. Noble puts it best on "Lifeforce": "The only thing I ever got from the stars was how to shine while dying." A kind blade, as Noble and these women before her know, is ultimately one that puts you out of your misery. When she sings, "This is how it feels when you can't let go" on "My Angel," she's talking about pain. A kind blade, for all its violence, takes the pain away, and it dangles over the album's 53 minutes and magnetic, decidedly drum-and-bass darkness. Even Noble's most featherlight flute trills can't fully counterbalance her proggy, trip-hop breakbeats.
This leap to the mythical is not a huge one, seeing how Noble has thought of herself in fantastical terms since her 2020 debut Faery Tears. She wears wings and prosthetic pointed ears and, occasionally, the kind of bronze bikini you find on the cover of pulp paperbacks illustrated by Frank Frazetta or Ken Kelly. Several track names on Kind Blade could alternate as titles of such paperbacks: the comparatively downtempo and darkwave "Forging This Shield" and the lone, clanking instrumental cut "Dragon's Lair" are obvious examples. There's also album highlight "The Dragon's Rose," which matches its dramatic title with some impressive vocal acrobatics and arguably Noble's finest flute performance on the record.
With shambolic beats that deliberately skirt dropping into a satisfactory groove, Kind Blade is not exactly for everyone—something Noble herself has said outright. (The same could be said of many of the other releases from L.A.-based underground label Doom Trip Records.) Even so, Noble gives the listener the occasional foothold, namely the straightforward techno of "I Miss Dancing" and the gentle guitar-led ballad "Sailor." But those are the exceptions, not the rule. Kind Blade's production is weighty and Noble's take on drum & bass is more suited to spellcasting than dancing. Like the tales of the women she invokes in image and sound, it's not exactly pleasant. It's resonant. More importantly, it's the stuff of high drama.