ALBUM OF THE DAY
Mimi Roman, "First of the Brooklyn Cowgirls"
By Ben Salmon · August 25, 2022
​
​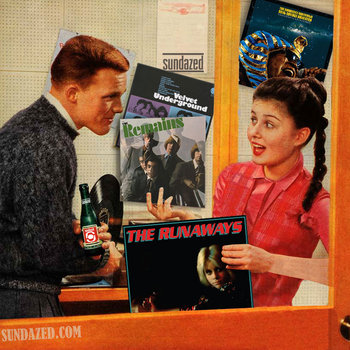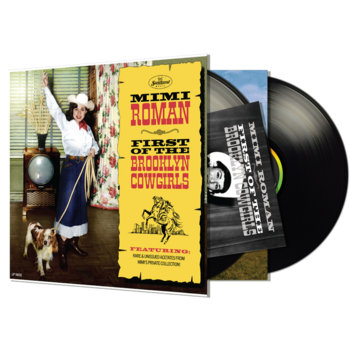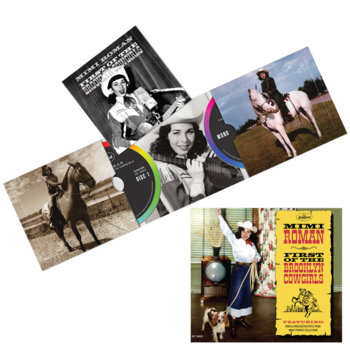 .
00:10 / 00:58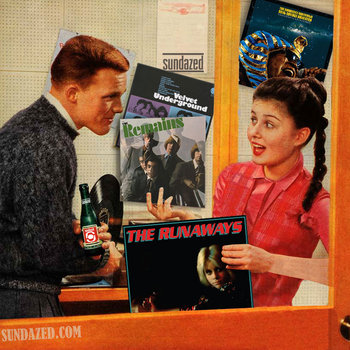 Merch for this release:
2 x Vinyl LP, Compact Disc (CD)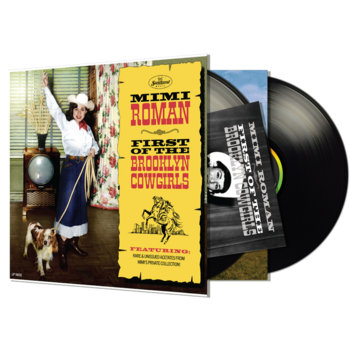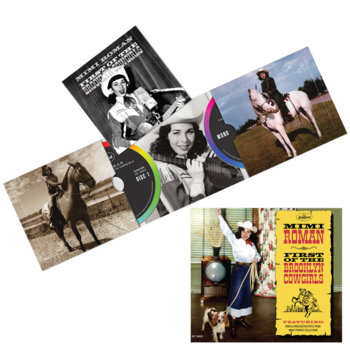 In the 1950s and early '60s, Mimi Roman did just about everything she could to become a successful country singer: She learned how to play the guitar; she performed in talent shows; she signed to the renowned Decca Records label and recorded tunes and toured all over the place; she even altered her name and concocted an origin story—that she grew up in small-town California, not Brooklyn, New York—she thought might appeal to country fans.
Critics and radio DJs liked her clarion voice and her winning personality, but not quite enough; Roman never scored a real hit, and before she turned 30, she more or less left the industry, choosing instead to stay close to home and sing for commercials, films, and other less glamorous jobs.
Roman's striking talent and truncated career arc made her a prime candidate for an archival release, and in 2012 the reissue label Bear Family Records compiled her singles and released them as a CD called I'm Ready If You Are Willing. Now, Sundazed Music is digging deeper for its compilation First of the Brooklyn Cowgirls, which features previously unreleased demos, radio, and TV performances and recordings sourced from 78rpm acetate discs in Roman's personal collection.
As is typical for such a release, the 25 tracks on Brooklyn Cowgirls vary in sound quality, with some sporting a layer of hiss that only adds to the historical charm of the release. And many tracks are live performances, accompanied by audience applause and preceded by an introduction, occasionally delivered by Roman herself but more often by men like Arthur Godfrey, host of his own variety show called Talent Scouts (1948-58). The first nine tracks of this collection focus on Roman's appearances on the program, including a performance of "I'm The One Who Loves You" that showcases the sturdy elegance of her voice, and a version of Hank Williams' "Weary Blues From Waitin'" that juxtaposes a baroque orchestral arrangement with yodeling. At the end of this section, Godfrey exclaims: "By golly, Mimi, you don't come from very far West, but you sure can sing those songs."
The rest of the compilation traces Roman's journey through old-time radio shows and military gigs, with distinctive covers of famous songs and cuts of tunes written by her husband at the time, Paul Evans. Highlights include Bill Monroe's "Rocky Road Blues" done with perfect Western swing pep, a cozy countrypolitan number (and suspected promo for Marathon Oil) called "He's My Marathon Man" and a skeletal run through Johnny Cash's "Folsom Prison Blues." On the traditional song "Born in East Virginia," Roman sounds authentically Appalachian, but on "You're the One," she sounds like she could've been a Motown artist. And when you listen to her torch-song take on Floyd Tillman's "I Gotta Have My Baby Back," it's very easy to imagine Roman as a Patsy Cline-sized figure in country music history; if only she'd caught the right breaks at the right time, she may very well have become a star. Because no matter the situation or the style of the music, her voice is powerful but approachable, and reliably vibrant. She may not be a household name, but decades later, Mimi Roman still jumps from the speakers and demands that you listen.