ALBUM OF THE DAY
Album of the Day: Melvins, "A Walk With Love & Death"
By JR Moores · July 13, 2017
​
​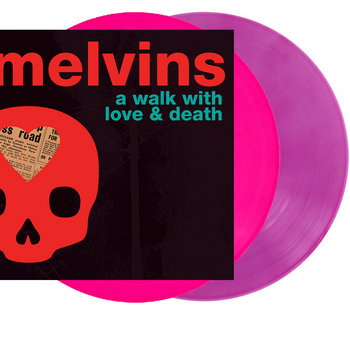 .
00:10 / 00:58
Merch for this release:
Compact Disc (CD), Vinyl LP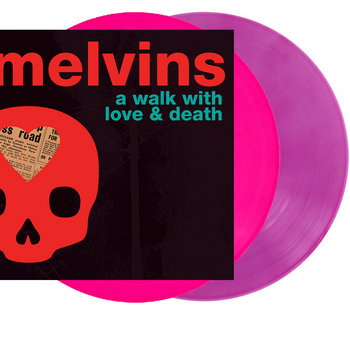 Melvins have done many things over the course of their 34-year career from inspiring the sludge-metal, noise-rock, and grunge movements to recording a sarcastic rendition of "Smells Like Teen Spirit" with Leif Garrett on vocals. One of the few things they haven't done, until now, is release a double album. In typical Melvins fashion, A Walk With Love & Death is no ordinary double album.
Disc One (Death) is the more straightforward of the pair. In the late 2000s, singer and guitarist Buzz Osborne complained that Melvins were too often stereotyped by lazy listeners as a slow band when they actually had plenty of speedier numbers in their repertoire. He'd be hard pressed to deny that Death's songs veer back towards the slower end. Yet in a refreshing twist to Melvins' usual Sabbath-smitten sound, they're also kinda light and breezy, even lighter than the "Melvins Lite" incarnation of the group from circa 2012.
Naturally, Osborne's phat riffs and Dale Crover's Bonham-esque drum fireworks remain present and correct, but there's a novel softness here to suggest the two hard-rock curmudgeons may finally be starting to chill. Perhaps the laid-back feel is thanks to latest bass recruit, Redd Kross' Steven McDonald, who has been a perma-grinning and happy-go-lucky presence on the band's recent tours. Either way, the overall result is the most deliciously melodic and mellow Melvins record to date.
Ever a contrary outfit, Melvins have coupled this accessible affair with another collection which sits defiantly at the more avant-garde end of the spectrum. The soundtrack to a Jesse Nieminen short movie, Disc Two (Love) consists of ambient noisescapes, spooky electronic chirping, strange soundbites, and oddball jams.
A Walk With Love & Death offers two very different walks, then. One path represents a carefree daylight stroll, the other is a mad scramble through a strange thicket. Each route is rewarding in its own special way.
—JR Moores