ALBUM OF THE DAY
Album of the Day: Melkbelly, "Nothing Valley"
By Aly Comingore · October 16, 2017
​
​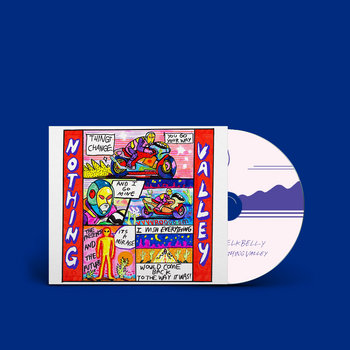 .
00:10 / 00:58
Merch for this release:
Vinyl LP, Compact Disc (CD)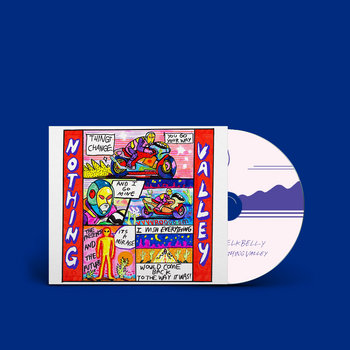 Melkbelly's Nothing Valley opens with a ripper. "Off the Lot," the lead track from the Chicago quartet's first full-length, is a two-and-a-half minute long burst of raw energy, full of distorted guitar, pummeling drums, and vocals that accelerate from an urgent sing-song to an earth-scorching scream. It's a taut, brutalizing beginning, and one that quickly encapsulates Melkbelly's specific brand of intense, tightly-knit rock 'n' roll.
If Nothing Valley feels instinctual, it's for good reason. Prior to forming in 2013, all four of Melkbelly's players had been collaborating in some form within Chicago's DIY scene. They're also all practically (or actually) family: vocalist/guitarist Miranda Winters is married to guitarist Bart Winters, his brother Liam Winters plays bass, and drummer James Wetzel is a longtime friend. Separately, their lists of influences and past projects run the gamut from folk-pop to punk to experimental noise. And together, they create a perfectly choreographed push and pull of twisting rhythms, anxious harmonies, and thrashing dissonance.
Built on the foundation laid by their 2014 Pennsylvania EP, Nothing Valley goes harder and louder. It also captures the awesome physicality of Melkbelly's sweat-drenched live shows. Like on "Twin Lookin Motherfucker," where Wetzel's drumming switches between metallic beats and breakneck fills, and Miranda's sneering-but-sweet vocals play tug of war with Bart's fuzz-addled guitar. "Kid Kreative" finds Miranda spitting snide lyrics about getting style-jacked by a male musician, her voice gamely fighting for top billing over a rising tide of percussion. Even in the quieter moments, Melkbelly seems to thrive on sonic tension. On "Cawthra," trembling bass parts and whispered lines about being blindfolded and "forced to stay out late" clash with bombastic choruses of mincing guitar noise.
The band has said that Nothing Valley was inspired, at least in part, by touring around the West Coast. But in place of the wide-eyed wistfulness that usually comes with the territory, they've turned the tour-as-muse trope into an album full of careening stop-starts and palpable nervous energy. In other words, it's the true sound of a sitting shoulder-to-shoulder on a too-long drive with all of the ones you love.
—Aly Comingore