ALBUM OF THE DAY
Mejiwahn, "Beanna"
By Tasha Viets-VanLear · July 06, 2022
​
​
Merch for this release:
2 x Vinyl LP, Cassette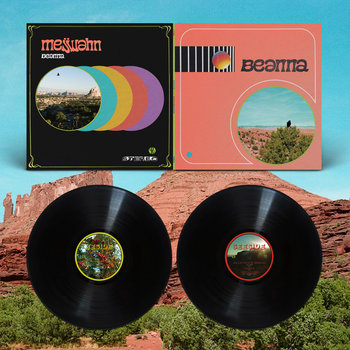 There is very little personal information about mejiwahn available online. The Oakland-based producer and multi-instrumentalist prefers to stay anonymous in as many ways possible. On Beanna, mejiwahn's first full-length release since 2018's Lúil Ó Fadó, allows the production, features, and musicianship to take center stage, rather than his own voice. The result is a beautiful and hypnotic meditation on pleasure, sweetness, connection, and living one's life to its fullest potential.
Album opener "Faolintro" welcomes listeners into Beanna's universe with a sample of two un-emotive narrators, instructing: "Make certain that you've done whatever you need to do to create the pleasant atmosphere where we will not be disturbed during the duration of this tape recording." The instructions are clear: This album intends to draw listeners into a purposeful listening experience; one without distraction, intrusive thoughts, or excess stimulation, much like a guided mediation.
The first half of the album feels distinctly tropical, with riffs and melodies reminiscent of mid-century jazz and Brazilian bossa nova. On "Spring," layers of arhythmic guitars blend serenely with fluttering percussion, and Daniel Bitrán's soaring saxophone, before transitioning seamlessly into the following track, giving the effect of movements within a classical music piece rather than separate songs on an album. Standout single "Heart String Special," featuring mejiwahn's recurring collaborator (Liv).e, is a dreamy, magical suite, embracing the listener with strings, woodwinds, and (Liv).e's comforting vocals. "Justtheweed," featuring rappers Zeroh and lojii is an excellent example of mejiwahn's breadth of production practice, invoking the styles of lo-fi, underground, New York hip-hop. The sparse production leaves ample room for the rappers, led by an ambling bassline, and accentuated with scattered piano and easy guitar strums. Zeroh and lojii complement each other well, with verses placed back-to-back before colliding into a unison hook. Their voices captivate and charm, like a story told by two best friends, each rushing towards the climax and finishing each others sentences,
Despite being dominated by instrumental tracks, Beanna resists any relegation to background music. Each feature is thoughtfully placed, and mejiwahn's impressive production compels one to listen closely to its intricate details, hear what comes next, and visualize a new universe to be propelled into. There is a cinematic quality to the tracks on Beanna, each of them conspicuously romantic, and easily inspiring idyllic mental montages like a winding drive down a surfer-dotted coast or shining white moon on an empty, velvet beach. The image is crystallized by the soothing, final track, "Fiachra": on Beanna it is summer, and the possibilities of love are endless.