ALBUM OF THE DAY
Album of the Day: Malokarpatan, "Nordkarpatenland"
By Zachary Goldsmith · November 20, 2017
​
​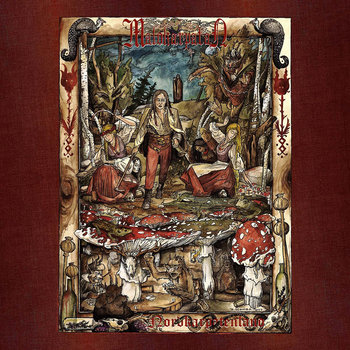 .
00:10 / 00:58
Merch for this release:
Compact Disc (CD), Vinyl LP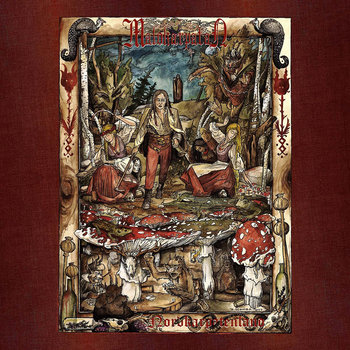 Slovakian warlocks Malokarpatan have been mixing occult witchcraft and the mythology of their home country with traditional folk and black metal since 2014. Their sophomore LP, Nordkarpatenland, is a conceptual work based on the poem "Na skle maľovane." In it, an 18th century Slovakian highwayman, Juraj Janošik, is executed in a gruesome—and kind of metal—way. He was skewered through the torso with a hook in 1713 for a series of Robin Hood-like robberies that extended throughout Slovakia, Poland, and Moravia. That backstory turns up in more than just Nordkarpatenland's lyrical themes and play-like intermissions: The cover art features a highwayman as he swigs from a bottle and wanders around surrounded by a field of psychotropic drugs—a great snapshot of the life of Janošik.
Throughout Nordkarpatenland, traditional Slovakian folk songs share space with fast-paced, straight-ahead, blazing black metal that's loaded with traditional riffs, harsh vocals, and plenty of blistering leads. What's so captivating about Malokarpatan's take on black metal is the way they seamlessly blend the catchy, traditional aspects of the music into their darkened panorama. "V okresném rybníku hastrman už po stáročá vyčína" showcase Malokarpatan's compositional skill and flat-out talent: Throughout the song's six minutes, bluesy lead lines intersperse and overtake each blistering guitar solo, and the vocals both rise in fury and deepen threateningly. Other tracks hurtle at the listener—layered, choir-like vocals floating evilly from the speakers, then blasted into silence by treble-heavy, distorted leads.
Nordkarpatenland is, in its essence, a traditional metal album masquerading as black metal. The production and composition surpasses their already-excellent debut, Stridžie dni, and fans of experimental and avant-garde acts such as Master's Hammer or Negative Plane will find the depth of Nordkarpatenland fascinating, haunting, and wholly rewarding.
—Zachary Goldsmith