ALBUM OF THE DAY
Album of the Day: Mall Walk, "Funny Papers"
By Mariana Timony · November 15, 2016
​
​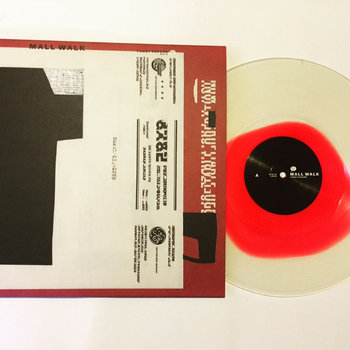 .
00:10 / 00:58
Merch for this release:
Vinyl LP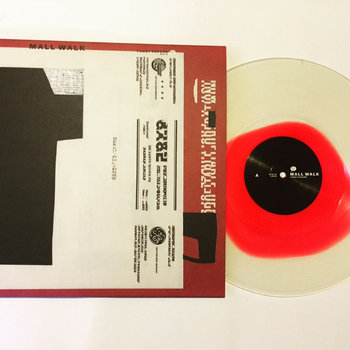 On their debut LP, Funny Papers, Oakland trio Mall Walk arrive fully-formed, completely confident and also completely insular. Their sound pulls as much from the lean post-punk records of the late '70s as it does the swirling tones of the noisier side of shoegaze. The combination is startling in its modernity, and as self-contained and intricate as a puzzle box.
The entire album feels defiantly private. They're slamming doors from the get-go: opening track "Call Again" begins with vocalist and guitarist Rob I. Miller declining a phone call, and as the record progresses, it becomes clear that Mall Walk have created a world by and for its members. "I'll make a solemn wager/ See you in the funny papers," Miller scoffs on "Exhauster." He's not just being glib—it's as if the band has made a thoughtful and thorough assessment of the world around them—and the people who inhabit it—and decided that they want out.
And while the entire record is characterized by this attitude of defiance, nothing here will grate on your nerves or blow out your speakers. Each song is laced through with danceable bass lines, jumpy rhythms and unexpected washes of sound. They buff the edges of Miller's sharp guitar and sharper one-liners. Occasionally Miller will disappear entirely, allowing bassist Daniel Brown and drummer Nicholas Clark to display their chops as a sophisticated and textured rhythm section.
The songs have an innate sense of velocity. Even in more straight-forward numbers, such as the groovy-yet-nervous "Negative Sex" or the prototypically indie "Death In Small Increments," every part is constantly moving. Mall Walk band may be minimalist, but they know instinctively when to doodle with effects pedals and when to just jam. They do both on "Street Drugs and Cartoons", where a few wiry seconds of distortion and pulsing feedback give way to a pogo-worthy bridge.
Mall Walk may be dour, but they're never dishonest. "Life is unkind sometimes," sings Miller on "Protection Spells." It's the record's most overtly pop track, and it's also the most brutally realistic. "Morals are compromised…it's only for your protection." On Funny Papers, Mall Walk pierce the illusion that there's any shield from the cruelty of the world except the one you create for yourself. It may not be the most lighthearted record you'll hear this year, but it's one of the most truthful.
— Mariana Timony