ALBUM OF THE DAY
Mahlathini and the Mahotella Queens, "Music Inferno: The Indestructible Beat Tour 1988​-​89"
By Dean Van Nguyen · April 11, 2023
​
​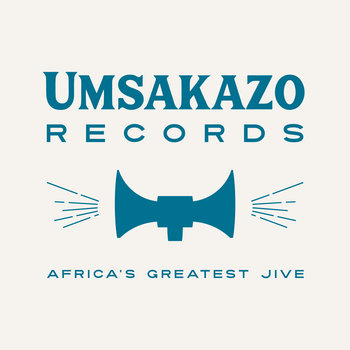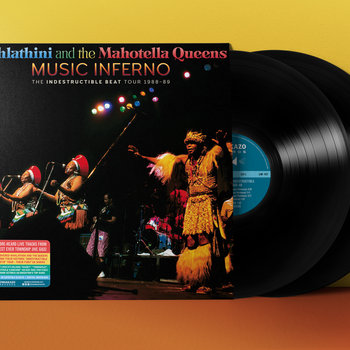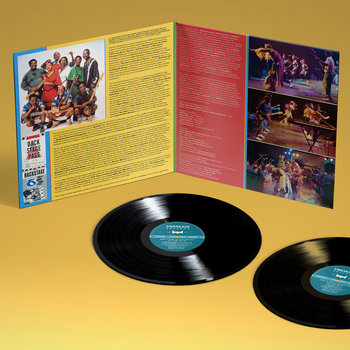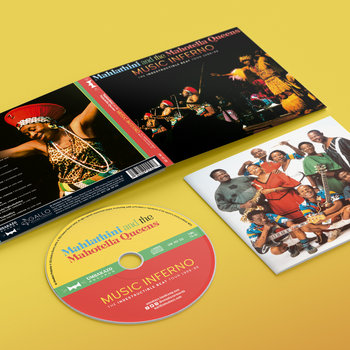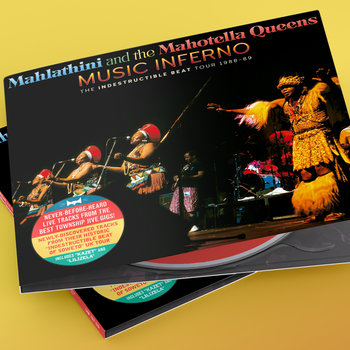 .
00:10 / 00:58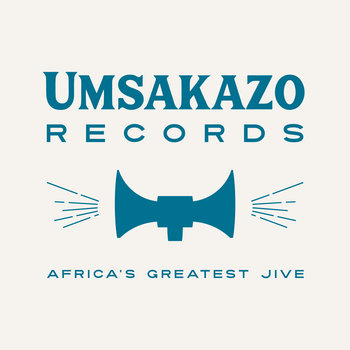 Merch for this release:
2 x Vinyl LP, Compact Disc (CD)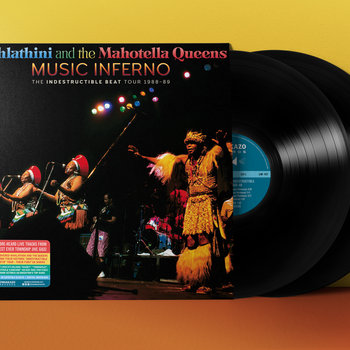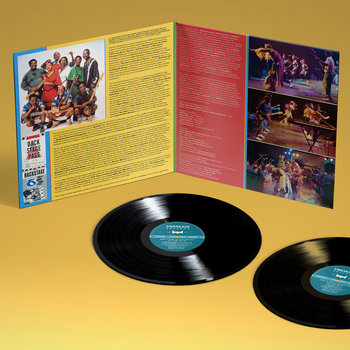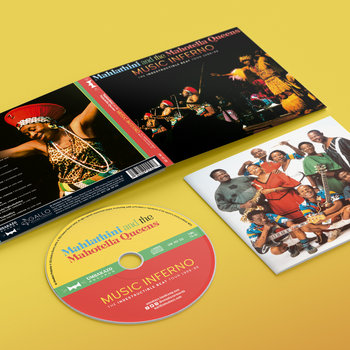 Johannesburg super group Mahlathini and the Mahotella Queens were already two decades into their collaboration when they touched down for their first UK performances in June 1988. The bills for the shows featured a number of South African artists, so opportunistic concert promoters dubbed it "The Indestructible Beat Tour," after the acclaimed 1985 Earthworks compilation The Indestructible Beat of Soweto. That album was an influential showcase of South African mbaqanga music, a style that combined rural Zulu music, harmony vocal styles, and Western instrumentation. Critic Robert Christgau would call it the most important album of the 1980s, and it would also provide the title to Joe Tangari's crucial 2005 Pitchfork article that captured the burgeoning African reissue industry, a trend that has yet to fade.
The success of the tour led to an invitation back to the UK in November for further "Indestructible Beat" gigs, eventually leading to Mahlathini and the Mahotella Queens undertaking their first standalone UK concerts in early 1989. Released by Umsakazo Records, Music Inferno: The Indestructible Beat Tour 1988-89 draws from all of these performances. "Now, we're going to give you the real Soweto sound, which is called mbaqanga," announces singer Mahlathini, the 'Lion of Soweto,' ushering in this 20-track collection of crisp recordings that captures the collective's fiery grooves, tight interplay, and strong stage presence. With a couple of sound checks tacked on to the end of the set, the intent throughout is clearly to make this the band's definitive live release.
Essential to their magic is Mahlathini's croaky, powerful, basso-profundo style—we're talking Howlin' Wolf levels of gravel here—and the way it contrasts with the sweet tones of girl group the Mahotella Queens and the jaunty afro-pop of The Makgona Tsohle Band. The vocalists intertwine on "Safa Indiala" over the kind of sunny guitars and upbeat percussion that some westerners will recognize from Paul Simon and Vampire Weekend's copy jobs. Vocals veer from the Zulu language to English. "When a child is born in Africa/ We're all real happy," the group sings on opener "Awuthele Kancane," "Because the future is theirs/ They are the future."
The party atmosphere never lets up. The horns are always joyous. Mahlathini is a charismatic host, speaking to the crowd directly with call-and-response prompts and anecdotes.It all adds up to an essential mbaqanga release, thankfully preserved.