ALBUM OF THE DAY
Luiz Carlos Vinhas, "O Som Psicodélico de L.C.V"
By Catalina Maria Johnson · June 01, 2020
​
​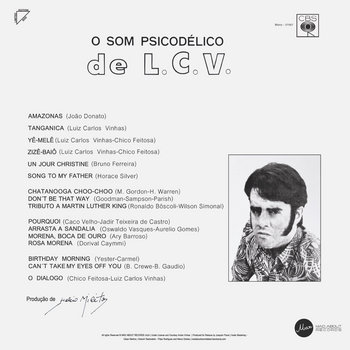 .
00:10 / 00:58
Merch for this release:
Vinyl LP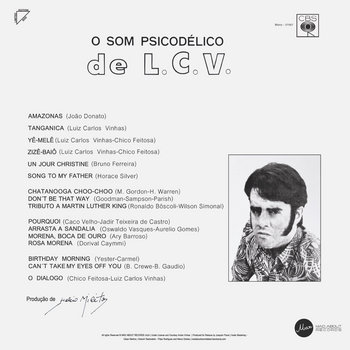 O Som Psicodélico de L.C.V. ("The Psychedelic Sound of L.C.V") may not seem quite as mind-blowing as it might have in 1968, yet this classic by renowned bossa nova pianist Luiz Carlos Vinhas stands the test of time. The album is elegantly, unmistakably Brazilian, featuring jazzy distortions of tropicalia and bossa nova with innovative flourishes like animal sounds and bird song sampling, and spoken word. The 10 tracks are grounded but also propelled by the deft touch of a masterful pianist whose delicate, intricate phrasing always finds the groove.
Throughout a career that began when he was 17 and was cut short by an untimely death at 61 years of age, Vinhas was a highly sought pianist and a member of the Bossa Três, the first instrumental group of bossa nova. He often accompanied other Brazilian luminaries such as Jorge Ben and only recorded five other solo studio albums besides O Som Psicodélico de L.C.V.  It includes several covers of iconic tunes, such as opener "Amazonas," composed by fellow pianist and founding father of bossa nova, Joao Donato. Vinhas reinterprets Donato's classic with smooth, swinging flair, applying this approach as well to another jazz standard—-"Song for my Father," by pianist, composer and bandleader Horace Silver. A couple of the tunes are surprising and curious mashups, like a medley which combines jazz standards "Chattanooga Choo-Choo" and "Don't Be That Way" with Wilson Simonal's "Tributo a Martin Luther King."
However, the standouts on the album are Vinhas's own compositions, with their Afro-Brazilian elements. These include "Tanganica," which includes those bits of birdsong and animal sounds as the horns embrace guitar chords for a soulful tune that leisurely pivots between horn and piano and vocals. "Ye-Mele," a groovy ode to Yoruba water goddess Yemanja, folds in umbandista chants with the horns. Album closer "O Dialogo" features Chico Feitosa, another classic Brazilian composer (he also participates elsewhere on the album) and incorporates elements of vocal riffing, spoken word and onomatopoeia which would a few decades later become central to the work of ensembles such as Sao Paolo's Barbatuques. Although the album may not seem quite nearly as wild and psychedelic as its title and cover art would imply, it remains a remarkably fresh exploration and expansion of the bossa nova and tropicalia musical envelope.