ALBUM OF THE DAY
Lifeguard, "Crowd Can Talk"
By Erin Margaret Day · August 04, 2022
​
​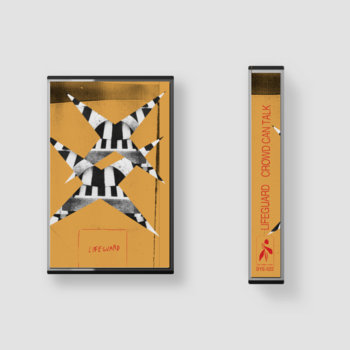 .
00:10 / 00:58
Merch for this release:
Cassette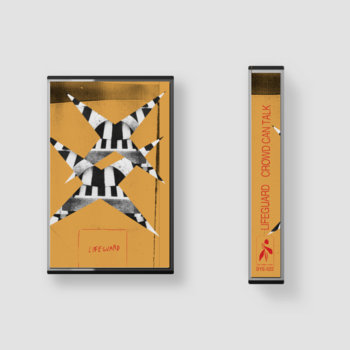 Chicago teenage experimental rock trio Lifeguard have been growing up and growing together through their music and the COVID-19 pandemic. When they first came onto the scene, their debut tape and seven-inch on Chunklet Industries made a strong case for them being the greatest teenaged band since Squirrel Bait. The comparison isn't drawn just because of their youth: these musicians are more knowledgeable, thoughtful, and skilled than is common even for adult players. The throughline is the unique energy of young genius at its earliest work—people of a certain age still talk about Squirrel Bait being the best live band they've ever seen or mixed, despite the fact that most of its members have continued to work in highly respected projects as adults.
It should come as no surprise that this band is so musically skilled: bassist Asher Case, drummer Isaac Lowenstein, and guitarist Kai Slater have all been playing music since elementary school and come from musical families. (Lowenstein's sister Penelope sings and plays guitar in Horsegirl and Case's father is Brian Case of FACS and Disappears.) The litany of names they list as influences—Unwound, This Heat, Talk Talk, Lightning Bolt—indicates they could easily dominate a punk and art rock trivia game set up by people twice or even thrice their age. But beyond being able to name names, what comes through the most is how deeply they listen; they consider so much in both listening to music and composing it.
Crowd Can Talk is a fitting title for their latest effort, forged out of their participation in Chicago's inspiring youth music scene. The band tried out new, unfinished material in their live performances, so by the time they went into the studio, the parts were so familiar that the band had an easy time putting them together into songs that felt purposeful—perhaps the crowd can help you compose, too. Their first tape (and only full length) was crafted during the pandemic lockdown during which they could not play or attend live shows—an isolated rut they audibly blast out of in the opening of "New Age (I've got a)." Lifeguard's new age is one in which they harness and reproduce in the studio the energy of their live performances, and it finds them more emotionally close as a unit than they've been on previous releases.
Lead single "I know I know" is where Lifeguard really take off, making absolutely clear how much more focused and catchy their songwriting has become through live interaction; there is more collaboration amongst members and lyrics have become less of an afterthought, with Case and Slater both bringing copious ideas to practices in their respective notes apps. As a result, Lifeguard are developing a more combinative, unified voice on Crowd Can Talk. Their move towards more anthemic songs in no way abandons their commitment to being loose and experimental, though: they leave a lot of space in between punk outbursts, as they illustrate on the seven-minute closer "Typecast."
In 2022, the crowd can talk, and they will. In all likelihood, like Squirrel Bait before them, they'll still have the crowd talking decades later.