ALBUM OF THE DAY
Konjur Collective, "Blood In My Eye (A Soul Insurgent Guide)"
By John Morrison · October 04, 2022
​
​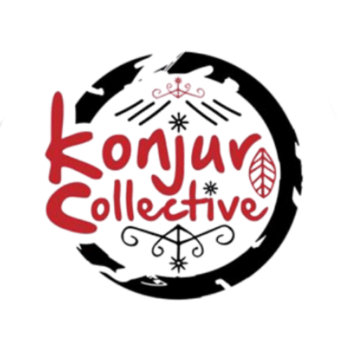 .
00:10 / 00:58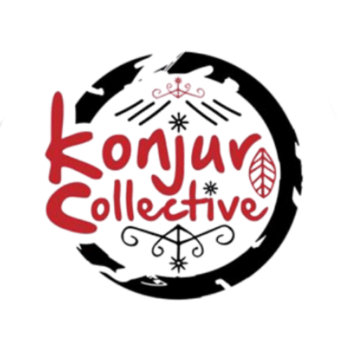 Merch for this release:
2 x Vinyl LP
On the afternoon of Saturday, August 21st, 1971, activist and revolutionary theorist, George Jackson was killed during an escape attempt from the San Quentin prison in California. Days before Jackson was shot dead in the yard of the maximum security facility, he completed the manuscript for Blood In My Eye, a fierce and incisive collection of essays that laid out Jackson's sweeping vision for a socialist revolution here in America and throughout the world.
Taking its name from Jackson's final masterwork, Blood In My Eye (A Soul Insurgent Guide) is the debut album from Baltimore improvising ensemble Konjur Collective. Composed of Show Azar on synthesizer, Jamal Moore on alto sax, trombone, electronics, and percussion; and Bashi Rose on drums, Konjur Collective manages to create a sound that is dense, textured, and intense. Fittingly, the album opens with "George Jackson", a 21-minute epic in which Rose's rolling, polyrhythmic patterns propel Moore and Azar forward as the trio locks into several explosive grooves. At around the 15-minute mark, Moore plays a riff that will relentlessly hold down the rhythmic center of the tune for the next five minutes, allowing Rose and Azar to play furiously around it.
"Ancestral Dialectic" opens with the sound of a lone monophonic synth sliding its way through an ominous, 4-note motif. From here, Rose enters with a slapping drum pattern. The hot, crunchy texture of Rose's drum sound brings a weight and edge that would rival the dustiest sampled breakbeats. "Spirit Realm" presents a significant change of pace from the head-nodding rhythm of "Ancestral Dialectic" with a foreboding, world-weary tone. Rose's toms, kick, and hi-hat work develops subtly, while Moore and Azar transport us to another realm. It's hard to quantify or describe sufficiently, but there is something within/about "Spirit Realm" that feels ancient and reverential like an offering sent over to the other side. "Jonathan Jackson" is not only named after George's younger brother (who was also killed by corrections officers), the intensity of the trio's performance captures the fiery essence of the younger Jackson.
Forward-thinking but not precious, free but not haphazard, Blood In My Eye (A Soul Insurgent Guide) pulls its power and creative energy from a long tradition of Black radical praxis. Theirs is a free and courageous approach to music that embodies the revolutionary spirit that Jackson and countless other insurrectionists throughout the ages have lived and died by.