ALBUM OF THE DAY
Kiwi Jr., "Chopper"
By Hayden Merrick · August 02, 2022
​
​
Merch for this release:
Vinyl LP, Compact Disc (CD), Cassette, T-Shirt/Shirt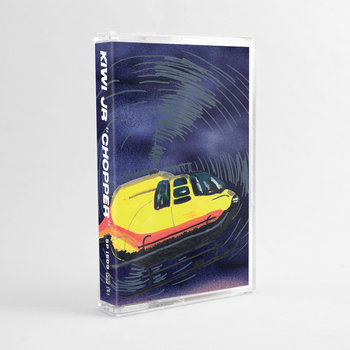 Before Chopper came along and complicated things, it was safe to call Kiwi Jr.'s sound emblematic of an in-with-the-old approach to unpretentious guitar music. A central force in the jangle pop renaissance, the Toronto quartet helped curate a transcontinental safe space for Flying Nun admirers—the Slumberland crew in Oakland; Jeanines and UV-TV in New York; Young Guv et al. in Toronto. Unfortunately, the anachronism these acts channel is not the kind that's in vogue (see Beabadoobee's, or even Olivia Rodrigo's, embrace of everything mid-aughts). The indie mediaverse hasn't exactly welcomed the janglers with open arms, either. As frontperson Jeremy Gaudet bemoans on the portentously titled "Kennedy Curse," "Deadlifting a Fender guitar and getting nowhere/ Showing your ass, trying to dance, to a cycle of failure." With their vibrant third LP, Kiwi Jr. swing from the jangle tree and tell the story of an underdog up against an indifferent world.
Chopper's demotion of guitars and adoption of synthesizers may jar those close to the band's earlier work. Where 2021's Cooler Returns opened with Rickenbacker arpeggios and Gaudet's coffee shop Sprechgesang, "Unspeakable Things" drops us into a crescendo of thumping drums and gooey synth counterpoints. When we meet Gaudet at the summit, he's actually singing. Diffident croons that drift into a faux British accent, porous whispers, yelp-y Reed-isms—Chopper expands his vocal range and adds beautiful reinforcements from Dorothea Paas. The sonic reorientation suits Kiwi Jr., though, and a few Cooler Returns-style barnstormers (see "Downtown Area Blues") will likely appease the purists.
Throughout the album, recurring lyrical themes operate like a string threading together a collection of disconnected cards. "The Sound of Music" examines fame and failure through a case study of Julie Andrews. "The Extra Sees the Film," airy and tender enough to be a 16 Lovers Lane cut, approaches the same balancing act from a fledgling actor's POV. There are roads and cars, the color blue, God. Because this is Gaudet—who marries the poetic allusiveness of Stephen Malkmus with the layered pop culture references of "30 Rock"—the lyrics straddle claptrap and genuine commentary on the difficulties of being a DIY indie band in 2022. In between the glib quips ("It's your turn to get ripped off, so get inspired") is a poignant thesis. "I could have danced all night/ And done a thousand things/ But without begging," Gaudet intones on "The Masked Singer," before the instrumental coda trails off into the night.
Despite taking a generally pessimistic outlook towards their own career prospects, Kiwi Jr. are making moves to transcend the jangle box and their local scene. Perhaps the finest song on the album is "Clerical Sleep," an addictive soft rock gem in the mold of Canadian indie luminaries The Weakerthans—the masters of the depression vs. contentment dichotomy, and whose frontman is credited in the liner notes—"It felt so good to be home/ But leaving feels even better." Kiwi Jr. mark two is worthy of trust—and judging by this album, they feel the same.