ALBUM OF THE DAY
Kathleen Edwards, "Total Freedom"
By J. Edward Keyes · August 19, 2020
​
​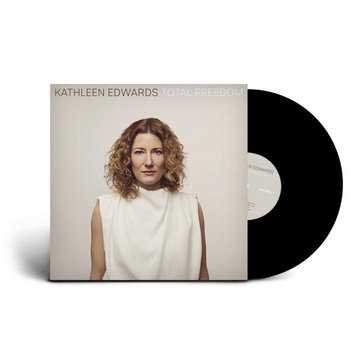 .
00:10 / 00:58
Merch for this release:
Vinyl LP, Compact Disc (CD)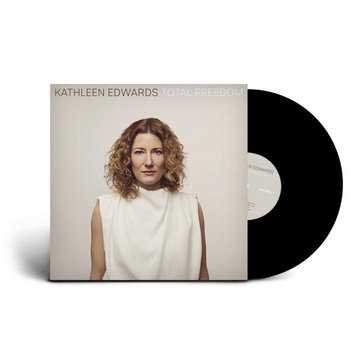 Longtime fans of Kathleen Edwards can appreciate the dark humor in the fact that the Canadian country songwriter decided to stage a comeback the same year the whole world shut down indefinitely. Her entire career—to say nothing of the characters in her songs—has been characterized by this kind of bum luck. The one-two punch of her stunning 2002 debut Failer and its 2004 follow-up Back to Me announced Edwards as someone who could write about people shoved to society's margins with both compassion and precision. "Six O'Clock News," Failer's opening track, told the story of a standoff between the police and a man holed up with a gun in a second story apartment with such detail you could practically smell the sweat and gunpowder. When she wrote about herself, that fatalism took on a wry, self-effacing edge; "Write a hit so I can talk you up," she once sang to a mythical rock star boyfriend, "No one likes a girl who won't sober up." The knowing title of that track is Edwards' career in a nutshell: "One More Song the Radio Won't Like."
She kept that combination of caustic wit, narrative acuity, and scalding gallows humor going through three records, each as strong as the last, each ultimately just clearing the brush for similarly minded artists like Miranda Lambert and Ashley Monroe to storm through. Each new Edwards LP met with the same commercial indifference. So, like any sensible artist, she changed tactics: In 2011 she released Voyageur, which was produced by then-boyfriend Justin Vernon and which traded barbed humor and cutting country riffs for soft-focus pop songs that focused more explicitly on matters of the heart. The public shrugged, and the album came and went; seven years later, another country songwriter pulled the exact same maneuver, except this time the album was called Golden Hour, and it ended up in the upper regions of most of the year's Top 10 Lists and scored an Album of the Year Grammy. For die-hard Edwards fans, it was hard not to feel like there was some kind of perverse cosmic conspiracy keeping one of the world's greatest songwriters sidelined. And so when she finally ditched the whole bag in 2014 to open a coffee shop in her hometown of Ottawa—hilariously named "Quitters"—who could blame her? In an interview a year later, she said she couldn't imagine returning to music.
Now, five years after that interview, she has, and her comeback album Total Freedom contains some of her most inward-looking work to date; its muted, watercolor pop sound feels perfectly designed for long days spent indoors. On Freedom, Edwards takes stock of her life, presenting her findings with sensitivity and, occasionally, self-deprecation. The tone is set from the get-go with "Glenfern," a genuinely sweet thank-you note from Edwards to her ex-husband and former bandmate Colin Cripps that expresses gratitude for the years they spent together while also getting in a few jabs at the music industry: "Now when I find myself looking back, I think of all the cool shit that happened," Edwards sings, "Like, we had a tour bus with a bed in the back/ We bought a rock and roll dream—and it was total crap." On "Simple Math," a tender ode to lifelong friendship, she marks the passage of time in generations: "Building forts in cedar trees/ Ice cream, banana seats/ Everything and nothing changes/ And now we are our mothers' age." "Who Rescued Who" is a big-hearted love song to Edwards' rescue dog, and on "Options Open," over a gleaming slide-guitar hook, Edwards smirks at her own persistent singlehood ("For 39 years, I've been keeping my options open").
Flashes of the old Edwards cutting wit turn up—particularly on "Fool's Ride," where she thoroughly dismantles a terrible ex-boyfriend (the umpteenth warning sign becomes, "A red flag flying in a shit parade"). But overall, the Edwards on Freedom is more reflective; the instruments are treated so that they become bands of sound that stretch softly across the backdrop of the songs, making for music that is more textural than the gravel-road Americana of her early work. The quietly crushing "Ashes to Ashes" is just a few whispers of acoustic guitar and cottony atmospherics; "Hard on Everyone" adopts a War on Drugs-y chug, the guitars as liquid and shapeless as rain on a windowpane. What comes through more than anything on Freedom is the sound of contentment. There was a kind of urgency to Edwards' early work that's common to an artist who's trying to claw their way into view. On Freedom, defeat and bitterness has given way to wonder and wisdom. It is a record made to be attentively played, thoughtfully absorbed, and quietly considered. In that way, Edwards—at long last—is right on time.