ALBUM OF THE DAY
Juanita Euka, "Mabanzo"
By Amaya Garcia · March 29, 2022
​
​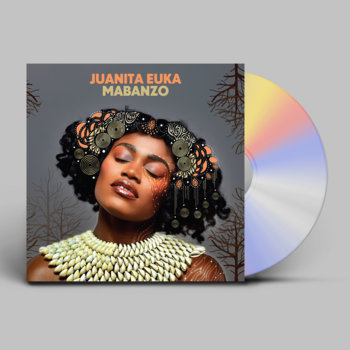 .
00:10 / 00:58
Merch for this release:
Vinyl LP, Compact Disc (CD)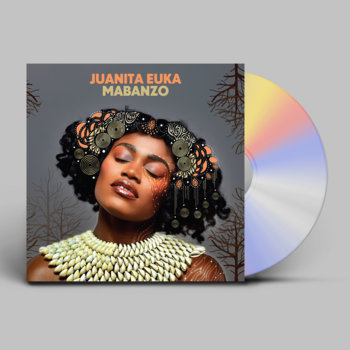 Juanita Euka is a distinctive presence in the London music scene. The niece of Congolese rumba star Franco Luambo Makiadi, Euka grew up surrounded by the music of Congolese and Afro-Cuban artists in her home in the Buenos Aires neighborhood of Belgrano. After moving to London at the age of 14, Euka has been a fixture of the Latin American music scene in the British capital, having formed part of the Afro-Peruvian band Malambo and the London Afrobeat Collective. Her unique upbringing has given Euka an array of influences ranging from Congolese guitar music and rumba, Afrobeat, tango, cumbia villera, salsa, bolero, and pop. In her hands, these genres shine together in a singular fusion—vocal harmonies anchored firmly in pop and R&B, but music and spirit that honors Euka's journey through Latin America, Europe, and the Democratic Republic of Congo. Her debut solo album, Mabanzo, is an enthralling listen that offers a blueprint of what Latin music could be if it embraced its differences.
Mabanzo means "thoughts" in Lingala, the title encapsulating the ethos of the record–a collection of stories in English, Spanish, French, and Lingala about love and heartbreak, African unity, the perils of choosing materialism over love, freedom from colonialism, and an all-encompassing spirituality. The record begins with "Alma Seca," a funk and Spanish guitar-infused track that was featured on the third season premiere of the BBC America series Killing Eve. With its mischievous bass line, playful guitar picking, and sensual vibe, the track serves as an entry point to Euka's musical fusion. There are no two tracks alike in this record, as Euka moves from the soukous inspired "Mboka Moko"—an ode to her memories of the Congo—to the salsa pop banger "For All It's Worth," to the Andean milonga campera of "Sueños de Libertad."
Such a mixture of genres could be dizzying, but the way Euka flows between the nuances of each style—the guitar picking, vocal inflections, percussive styles—is a rich study in the creation of a pan-Latin and pan-African sound. Nothing is incidental in Mabanzo. Take "Baño de Oro," a Cuban rumba with Congolese flavor that sees Euka channeling and honoring lifelong Afro-Cuban favorites like Celia Cruz and La Lupe. Mabanzo signals a possible new beginning for Latin music, where traditional and contemporary genres can be a connecting thread and a vehicle to tell compelling stories about the complexities of our identities and the joy of creating your own cultural path in the world.