ALBUM OF THE DAY
JoVia Armstrong & Eunoia Society, "The Antidote Suite"
By Piotr Orlov · July 22, 2022
​
​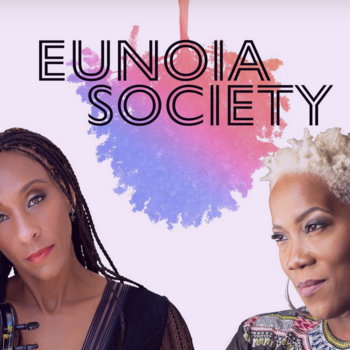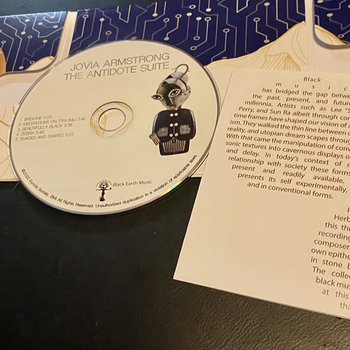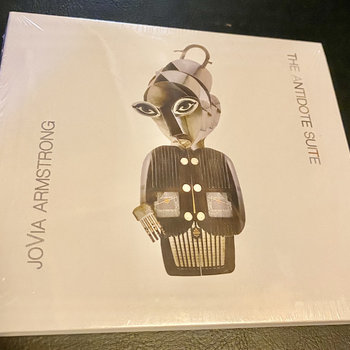 .
00:10 / 00:58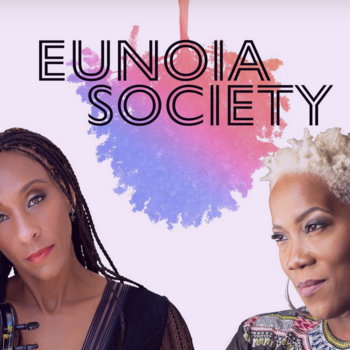 Merch for this release:
Compact Disc (CD)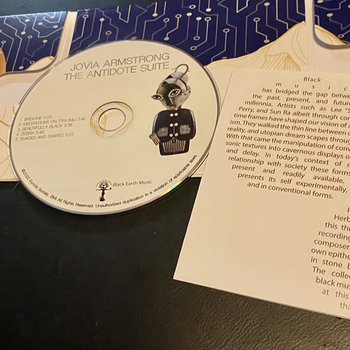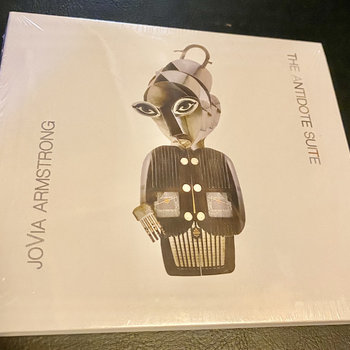 There is power in the continuity of musical storytelling. The longer it persists, the stronger, more influential, and more original the music becomes. This is doubly so when a musical narrative starts out already imbued with community intentions then picks up each ensuing generation's ideas on the subject, embedding that continuity with new hopes and dreams; warnings and examples; sounds and forms. This is how traditions are born, and few contemporary cultural traditions match the power of Great Black Music. Artists with the vision to recognize its full breadth (rather than simply serving it piecemeal via genre categorization) work on an immense canvas; and as time continues to collapse, musicians presenting the breadth of that tradition are addressing nothing less than the full bore of history.
This is the context of JoVia Armstrong's The Antidote Suite, the drummer-educator-technologist's second album under her own name, and a rich document of this diasporic musical continuum from a contemporary perspective. Featuring music written and produced by Armstrong, performed with violinist Leslie DeShazor plus a few community guests, and originally commissioned to accompany the traveling group art show The Black Index, Antidote Suite is an expansive, mostly instrumental work, a soundtrack to the moment when old delineations stop making sense, and intersectionality is less code than new reality—when, as Jason McDaniel's liner notes say, "the collective consciousness of Black Music is more fluid…than ever before."
Armstrong is well-versed to tackle the moment, as she's long subscribed to this fluidity. The multi-instrumentalist grew up in Detroit, mentored by the drummer Francesco Mora Catlett (whose own roots in the tradition stretch from Max Roach to Carl Craig), and has been operating in Motor City and Chicago's diverse musical spaces for nearly 20 years. Her vocals and rhythms have accompanied a host of different musicians: she appears on recordings by, among others, AACM composer Nicole Mitchell (Armstrong is among the drummers in her Black Earth Ensemble) and house don Theo Parrish (who adapted and remixed Armstrong's song, "Gullah Geechee"); she's a member of JC Brooks's retro-soul-punk band Uptown Sound and the all-female, strings and drums quartet, Musique Noire; she has been an in-demand touring drummer, and operated a community music school on the South Side. For Armstrong, fluidity is the fuel.
And the power of The Antidote Suite is how naturally all the parts flow together. With Mitchell's flute, Jeff Parker's guitar, Isaiah Sharkey's bass, and Amr Fahmy's Rhodes augmenting DeShazor's amplified strings, Armstrong's stripped-down kit, and tactfully added electronic post-production, the textures hint at some near-future sound of global jazz. (The gorgeous Mitchell- and Armstrong-led "Meditations on Oya," in fact, echoes Christian Scott aTunde Adjuah's similarly minded "Stretch Music.") But this Suite is less about solo playing than how the compositions invite each musician to interact with the material and the tradition, creating music that sounds yearning, multivalent, and futuristic.
Imitating its title, "Breathe" rises and falls on waves of Parker's distortions, DeShazor's violin, and Armstrong's cymbals, creating a cascading science fiction desert sound. "Shades and Shapes" rises as a guitar/keys/hi-hat funk configuration, before mutating into a kind of Middle Eastern dance tune that showcases DeShazor, then disappearing into the near-ambient space-age electronics of Fahmy's Rhodes. Best of all is the radical interplay on the Suite's one vocal track: At its start, "Zebra" places the great Chicago singer Yaw Agyeman in front of an incomparable production that has the feeling of D'Angelo's Voodoo but as a lo-fi dub experience, before introducing Teh'Ray Hale's rap, delivered over laid-back rimshots and glitchy, virus-like blasts. For the rest of the track, the music and the voices keep transforming—the second half is essentially a dub remix of the first—as though the mixing board's ghosts are getting involved in the storytelling. The elements they add are already part of this tradition (see: Lee Perry, CX KiDTRONiK), but what JoVia Armstrong's Antidote Suite does is put them on an equal sonic footing with all the others—continuing what came before, making sure it has another place to go.