ALBUM OF THE DAY
Ìxtahuele, "Dharmaland"
By Andy Beta · June 15, 2021
​
​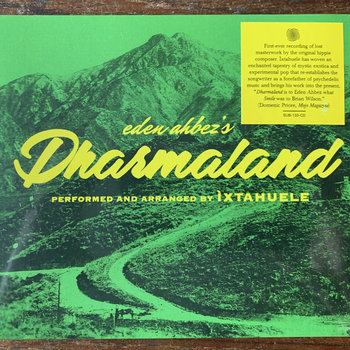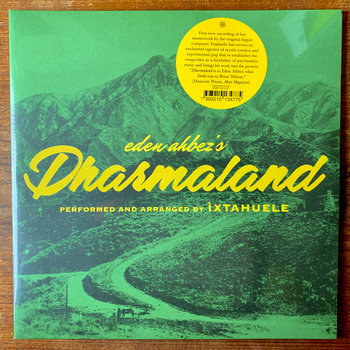 .
00:10 / 00:58
Merch for this release:
Compact Disc (CD), 2 x Vinyl LP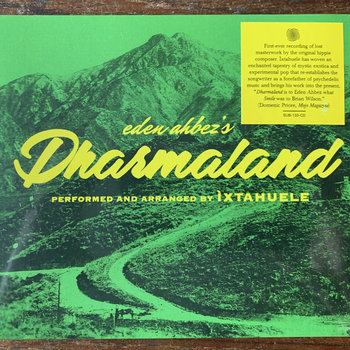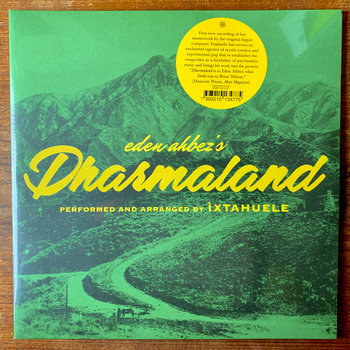 Born George Alexander Aberle in Brooklyn, the musician known as eden ahbez moved to California in the early 1940s, adopting a new lowercase name and becoming one of the more curious figures of the 20th century. He played piano in a small health food store tucked into Laurel Canyon and lived under the first L in the Hollywood sign. Clad in white robes and sandals, subsisting on a diet of raw fruits and vegetables, with his long hair and beard, ahbez is today considered the first hippie. And when he penned a song called "Nature Boy," it became the unlikeliest of standards—a #1 hit for Nat King Cole and since covered by everyone from Frank Sinatra and David Bowie to Celine Dion and Alex Chilton. Ahbez was a touchstone for the hippie generation, befriending the likes of Brian Wilson, Donovan, and Grace Slick.
But ahbez released only one album in his lifetime: 1960's obscure exotica album Eden's Island (The Music Of An Enchanted Isle). It was only when author and filmmaker Brian Chidester was researching ahbez's papers in the Library of Congress for his forthcoming documentary As the Wind: The Enchanted Life of Eden Ahbez that he came upon a clutch of 22 compositions that ahbez had composed and copyrighted during a three-year period between 1960-1963. It was a low time for ahbez: Eden's Island had sunk without a trace, and his wife was diagnosed with leukemia; the compositions Chidester found had gone unrecorded. So Chidester showed the sheet music to exotica devotees Ìxtahuele, who set about piecing it all together into Dharmaland.
All of the words and music are by ahbez, with Ìxtahuele members Henrik Magnusson and Mattias Uneback meticulously arranging the pieces into widescreen exotica fantasias. The ensemble strikes a careful balance that pays loving homage to ahbez's vision without falling into pastiche, creating music that evokes the titular utopian landscape. Dreamy group voices and guitars drift by on "The King and Queen of Waters," marimbas and jungle ambience merge on "Manna," with guest vocalist Kadhja Bonet providing wordless vocals reminiscent of another exotica legend, Yma Sumac.
Certain musical motifs hint at "Nature Boy," while "The Sandal-Maker" echoes that song's main character, the lyrics mentioning "a carpenter…gentle and sweet as a dove/ Who knew all about love." Most staggering is the multi-part suite "Scenes I-III," where ahbez's sheet music comes to life, woven together by Ìxtahuele into a 15-minute sonic voyage, an elegant mix of piano, hand percussion, vibraphone, and more. It would have been a classic during lounge music's heyday, but it sounds just as timeless and transportive in the 21st century.