ALBUM OF THE DAY
Album of the Day: Imarhan, "Temet"
By Noah Berlatsky · February 27, 2018
​
​
Merch for this release:
Compact Disc (CD), Vinyl LP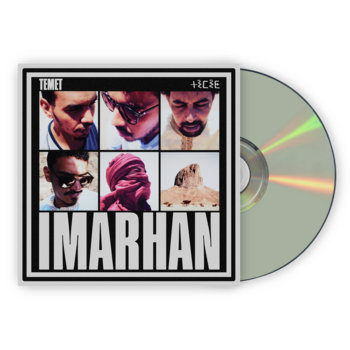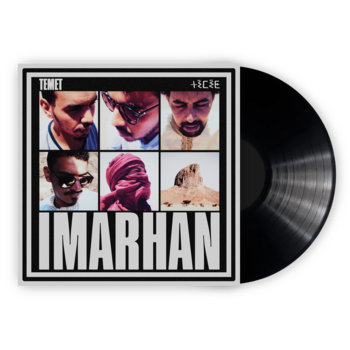 The fuzzed-out, trance-inducing psychedelia of Tuareg guitar has become one of the more celebrated sounds in African music over the past few years. Performers like Tinariwen and Songhoy Blues, from Mali, and Bombino, from Niger, have combined the traditional music of Berber peoples in the Sahara with blues rock influences and amplification to create a unique, immediately recognizable, and hugely appealing hybrid—Jimi Hendrix and Oum Kalthoum blissed out together.
The Algerian band Imarhan's 2016 self-titled debut was a fine example of the form, with track after track of groovy, meditative riffs. Their sophomore effort, though, is a step further. The rock influences have been amped up and combined with a good bit of funk; the result is less trance, more swagger. The first track, "Azzaman" has a shoulder-shrugging, loose-limbed backbeat that you would fit right in on classic rock radio; it climaxes with a guitar solo that leans so heavy on the wah-wah it's almost self-parodic: ridiculous and glorious at once. "Ehad wa dagh" has a tasty hook and a rhythm section racing along at punk rock speeds without breaking a sweat. "Tumast" has a slinky bottom end, walls of blazing guitar, and a vocal chorus that wouldn't be out of place in Bollywood pop; it's an honest-to-god desert dancefloor stomper.
"Zinizjumegh" starts as a pretty acoustic number, bluesy in the spirit of folks who love both Robert Johnson and Robert Plant. Halfway through, the amplified guitar comes in, breaking the song open like a rolling cloudburst. The meditative closer "Ma S-Abok" is dreamy acoustic folk-rock, with singer Sadam Ag Ibrahim's providing gentle vocals that slide between chant and confessional. Even the quiet bits of Temet feel like they're speaking loud enough for the whole world to hear. In Imarhan's hands, Tuareg isn't a regional style, but a universal language.