ALBUM OF THE DAY
Ibibio Sound Machine, "Electricity"
By Saby Reyes-Kulkarni · March 28, 2022
​
​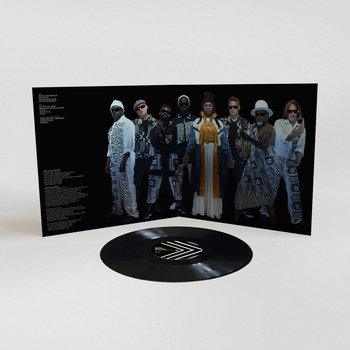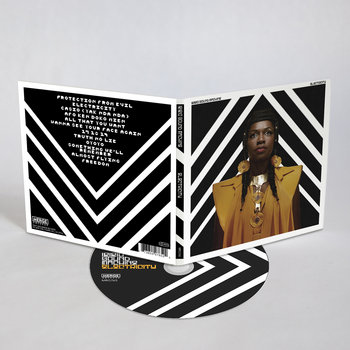 .
00:10 / 00:58
Merch for this release:
Vinyl LP, Compact Disc (CD)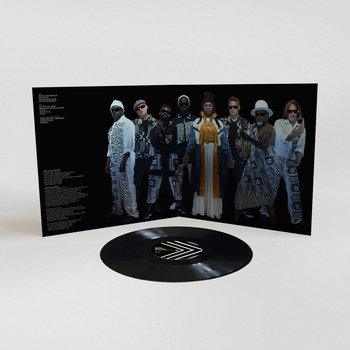 For more than a decade now, Ibibio Sound Machine have modernized the funk strains that filled West African discotheques in the late '70s and early '80s by giving them an electro-dance makeover. With its rousing combination of disco, Afrobeat-influenced horns, Ghanaian guitar, Brazilian percussion, PlayStation sound effects, and nursery rhyme-like folktales in frontwoman Eno Williams's native Ibibio language, the London-based octet has steadily perfected a unique fusion that blurs the lines between genres, continents, and time periods. At various points on the band's first three albums, we've gotten tantalizing glimpses of something like Blade Runner's futuristic mishmosh of languages and fashion sense—only heavy on African flavors and a relentlessly upbeat groove.
With their fourth album Electricity, however, Ibibio Sound Machine finally capture a sense of the future rushing through the doorway of the present. Having inched into new territory with each successive album, it's no wonder that the band's universe has expanded further this time. But through the combined efforts of producers Joe Goddard and Al Doyle of Hot Chip, along with in-house saxophonist/programmer/producer Max Grunhard, Ibibio Sound Machine delivers one of the most vibrantly imaginative releases of the year so far. Easily the band's most forward-thinking effort to date, Electricity showcases Ibibio Sound Machine diving head-first into technology while retaining the blood-pumping human element they've always captured so well. 
Album opener "Protection from Evil" sets the tone with irresistible, wobbling synths that evoke the sweaty delirium of a crowded dance floor, yet the fresh production approach frees the music from the sci-fi aesthetic the band flirts with. As "Protection from Evil" pulsates towards its climax, Williams chants "spiritual, invisible, pro-tec-tion, from evil!," her words booming from the chest as if delivering an inspirational speech to all of humanity. (The song, Williams recently explained, is an invocation against the kind of invisible threat posed by COVID-19.) The chant then repeats through a robot-like vocal effect before the shards of a horn figure break and scatter over thick slabs of synth bass.
With an edgier palette of sounds to work with than their Hot Chip material, Doyle and Goddard piloted arrangements filled with digital debris that verges on noise. No matter how harsh or inanimate, however, each and every and every sound serves the groove. On "Casio (Yak Nda Nda)," for example, a lopsided buzzer strobes across an uptempo dance beat from drummer Joseph Amoako. Amoako's drum part was captured with such realism it's as if you could reach into the music and wipe the condensation off his hi hat. The contrast between the two sounds couldn't be more pronounced—the alarm system, say, of a broken machine wheezing monotonously until its power supply dies out, versus the indefatigable heartbeat that powers Ibibio Sound Machine's music—and yet you could dance to both elements separately.
"Make me a rhythm I can play/ A drum to carry me away," Williams sings on the digital bonus track "Freedom." Alongside guest vocalist Adenike Ajayi, Williams's voice sits suspended within an electronic beat devoid of live instrumentation. The song, in fact, conveys a near-total absence of spatial ambience, as if Ajayi and Williams were disembodied from the music, spurring the imagination into having to work to conjure matching visuals. That's because, in its most daring moments, Electricity nips at the edges of what we can yet conceive. Never short on inspiration to begin with, Ibibio Sound Machine have now begun to plot their own course into realms their influences could never have dreamed possible.