ALBUM OF THE DAY
Album of the Day: Homeboy Sandman & Edan, "Humble Pi"
By Nate Patrin · October 24, 2018
​
​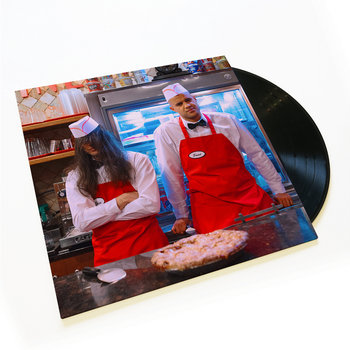 .
00:10 / 00:58
Merch for this release:
Vinyl LP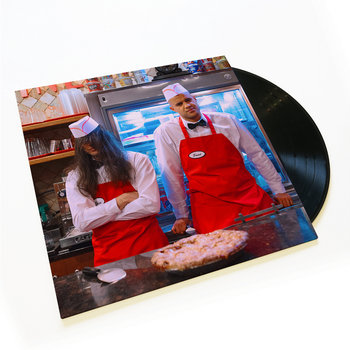 Homeboy Sandman's Kindness for Weakness was one of the strongest releases by an MC with no shortage of must-hear albums and EPs this past decade. And it wasn't just because his sardonic, sharp-toothed but clear-eyed conceptual raps were on point—he brought an all-world lineup of beatmakers with him.
Yet of all the guests from that 2016 record, from Large Professor to RJD2 to Paul White, it was the most unassuming producer who has carried over into a more in-depth teamup with Sandman. Edan, the underground producer/MC who blew up in 2005 off his psychedelic hip-hop masterpiece Beauty and the Beat, before his release schedule went sporadic at best over the following 10 years, unexpectedly re-emerged behind the boards on Kindness for Weakness highlight "Talkin' (Bleep)." And two years later, that collaborative spirit has spawned seven more cuts, the professed end result of Edan's renewed inspiration coming from a mutual respect with Sandman.
If it takes an exceptional chemistry with another artist for Edan to step back into the production forefront, then Humble Pi justifies that idea: aside from Edan's own often-intense "Pete Nice goes through the stargate from 2001" delivery, few MC's click on the cosmic level of Edan's beats quite like Sandman does. There's a certain rejection of the new for newness's sake on Humble Pi—sometimes literally, as on the album-ending twofer of hilarious anti-social media boom-bap diatribe "#NeverUseTheInternetAgain" ("Everyday the bullshit worsen / Order a pizza like a fucking person") and caveman anthem "Evolution of (sand)Man," that finally one-ups the Jimmy Castor Bunch for hip-hop heads going way back.
And the here-and-now still sounds eternal: Sandman's unpredictable but understandable flow sounds revelatory in Edan's lysergic landscapes, whether it's Vivaldi as acid-soul cratedigger on the chronicling of city-trapped death in "Grim Seasons," or the agitating percussion of "Unwavering Mind" reverbed into the sound of shivering aluminum. It's a short but vivid world-building record, the remnants of old places and past lives still standing in defiance of hyper-development.