ALBUM OF THE DAY
Heart of the Ghost, "Summons"
By John Morrison · July 28, 2022
​
​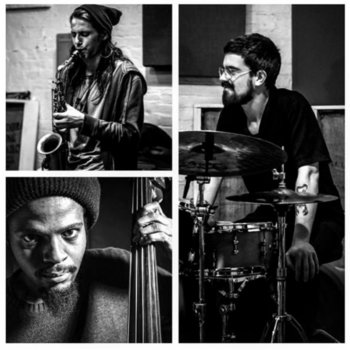 .
00:10 / 00:58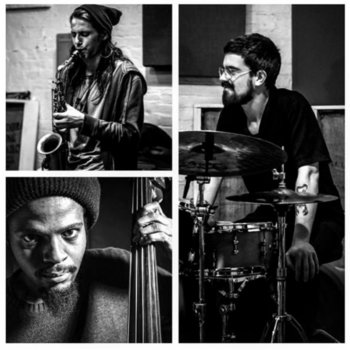 Merch for this release:
Vinyl LP
When saxophonist Aaron Muhammed Oyerinde Martin Jr. passed away in the spring of 2021, D.C.'s jazz community mourned openly. Social media posts poured in and a concert was held in his honor as musicians and listeners alike expressed their love and appreciation for Martin, a man who was not only an adventurous improviser but a mentor and friend to musicians across generations. Carrying on Martin's memory and musical spirit, D.C./Baltimore-based trio Heart of the Ghost's album Summons is a fierce exploration of the depths and breadth of freely improvised music.
Comprised of Ian McColm on drums, Luke Stewart on bass, and saxophonist Jarrett Gilgore, Heart of the Ghost comes out of the gate swinging with the title track. Stewart and McColm hold the foundation firmly, immediately interlocking to create swift and forceful rhythmic drive. Gilgore flies throughout the tune, playing nimble, meteoric lines that eventually give way to furious, exhilarating screeches. "Aaron's Ride," a direct tribute to Martin, opens with Gilgore's powerful single-note clarion call before he's quickly joined and emboldened by Stewart and McColm. Ahead of the five-minute mark, the band intentionally dampens the energy and fire that it ignited earlier in the track, allowing for Stewart to step to the forefront with a measured, thoughtful bassline that anchors the remainder of the piece.
"Specters" re-ups on the intensity of "Summons," with Gilgore's piercing lines slipping into a fun call-and-response with McColm and Stewart. The trio's sharp, intuitive communication lifts the music to ecstatic heights, reminding us that the act of improvisation in jazz is first and foremost a spiritual endeavor. The album closes with a 22-minute epic entitled "Communion." McColm opens the tune with toms, kicks, and cymbals all coalescing to create a dense polyrhythm that is shortly joined by Stewart's rolling, thunderous bassline. The two play an intricate two-person groove together before Gilgore enters, cutting through the lower tones of the bass and drums with slowly unfolding notes. Soon, the pace of Gilgore's playing increases and the three musicians balance and play off one another with great sensitivity. Around the 15-minute mark the band settles into a softer, atmospheric section with the primary focus being McColm's reverb-drenched kit that somehow occupies both foreground and background. When the entire band returns, they dial the intensity back up, carrying us toward a thrilling climax.

A rich and involved musical journey, Summons is a bold statement showcasing the power of spontaneity. McColm, Stewart, and Gilgore tap into and honor the spirit of the greats that came before them. The music here burns with great intensity and dedication to the art of improvisational exploration.