ALBUM OF THE DAY
Gutterring, "BodyLepsis"
By Joe Muggs · October 03, 2022
​
​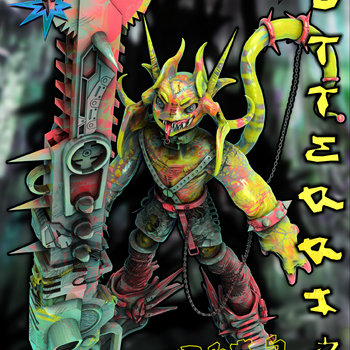 .
00:10 / 00:58
Merch for this release:
Poster/Print, T-Shirt/Shirt,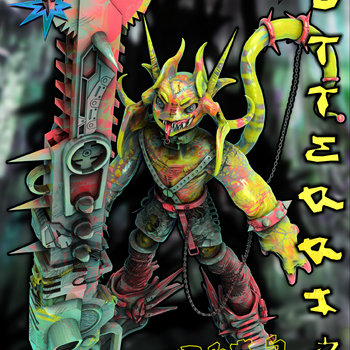 The opening salvo of BodyLepsis seems dead set on showing that—in stark contrast to many collectives who present themselves as radical in one way or another—London's Gutterring take an approach to dance music that's anything but "deconstructed." Nahshi's "DTMemory" is absolutely slathered with the riffs and rushes of the most commercial trance. DJ Fingerblast's "Skanking Apologist" is practically straight-up hard house. And the first third of trendphazr's "Klaplong Sun" boasts the searing major melodies and donka-donka 6/8 kickdrums of hardstyle. It's all way more mega-rave than aloof hipster.
And yet, and yet…
Nothing on Bodylepsis is a straight rehash of existing templates. "DTMemory" has a roll and throb to its rhythms that hints at an acquaintance with early dubstep. The vocal cutup "Skanking Apologist" is camp, punky, and androgynous. And "Klaplong Sun," after its relatively conventional start, heads into a wonderfully bizarre meltdown of psychedelic digital processing, as if the walls and floor of the rave are disintegrating around you, leaving you in the abyss of space.
After that? Anything goes. All the styles of hard dance are represented here—gabber, donk, you name it—but the traditional macho pitched-down voices, or breathy "sexy" female ones are replaced with ambiguous or outright weird vocal processing. As the album goes on, those regular kickdrum patterns are interspersed with other, freakier rhythms: breakcore, trap, LYZZA's gravity-rearranging, rubberized, double-time techno-bass, VAMPI x RATTLESNAKKE's terrifyingly tactile snaking of slo-mo R&B…and on and on it goes.
There is a lot of this that's experimental in the literal sense; i.e., trying out things you've never have heard before. And there is clearly intellectual and political intent behind it all—the comp is a fundraiser for a social enterprise for homeless and vulnerable LGBTQIA+ youth, and the album notes make it very clear that this is about protest and transgression—about smashing boundaries, not dismantling them. There are, after all, tracks called "cunt laser hypnosis" and "punk motherfucker," the latter of which interpolates Sham 69's chanted aggro-punk "If the Kids are United." Noise, distortion, and relentless momentum is the name of the game.
This is music for illegal raves, for squats and makeshift venues, for parties where you don't so much question your identity as completely forget who and what you are within an hour. It's cleansing and filthy all at once, it's ecstatic and psychedelic to the thousandth power, it's got so little time for discussions of aesthetics and authenticity that you can almost feel it laughing in your face if you try to pick apart what means what. It's a joy just to know it exists. But if you really subject yourself to the inseparable rage and euphoria of these 25 tracks, there are plenty more, altogether darker, joys to discover.