ALBUM OF THE DAY
Grey Factor, "1979​-​1980 A​.​D. – Complete Studio Recordings"
By Jude Noel · January 25, 2023
​
​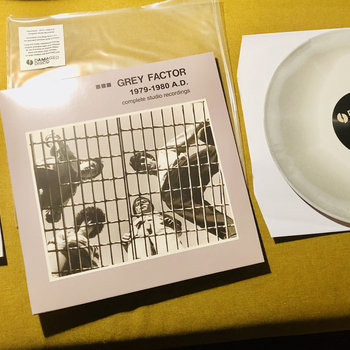 .
00:10 / 00:58
Merch for this release:
Vinyl LP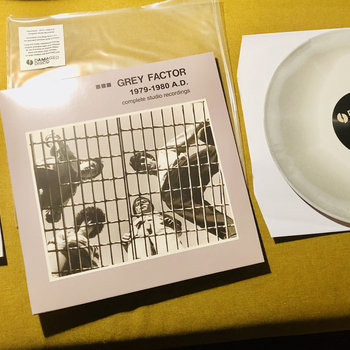 A single clip sourced from the first episode of Peter Ivers's public access program New Wave Theatre is the only surviving footage of Grey Factor, but its six minutes are all it takes to understand what made this short-lived Los Angeles band so special. Airing in 1979, a year before New Order would make its debut performance, the live session exhibited Grey Factor's lofty ambitions to reinvent Southern California's burgeoning punk scene in their own electronic image. Spreading four massive synths across the stage, the band produces a dense fog of drones and squelches as a lone guitarist paces back and forth, hammering out trebly chords with dissonant abandon. A backup dancer in a dress wriggles in the background, almost out of sight. Though more than a bit of a mess, Grey Factor's brush with small-screen stardom was shockingly ahead of its time, creating sardonic synth-pop at a time when only a small handful of bands outside of Europe had even begun to tinker with fully-digital songcraft.
Founded in 1978 by Joey Cevetello and Jeff Jacquin—self-proclaimed "bored kids from the San Fernando Valley" who were fascinated by Pere Ubu, Kraftwerk, and Tuxedomoon—Grey Factor produced local intrigue with their eerie, industrial sound but disappeared as quickly as they arrived in 1980, leaving only a few hand-dubbed cassettes in their wake. More than 40 years after they were recorded, the band's complete studio works are getting their first proper physical release.
The first half of Grey Factor: 1979-1980 features the aforementioned cassette EP in full and features some of the band's more purely electronic tracks. Opener "You're So Cool" is a largely instrumental number composed of many intricately layered melody lines weaving through popping snares and lumbering bass. Vocals phase in and out of the mix, barely decipherable, as if calling out through a wall of television static. Side B contains all four tracks from the Feel of Passion EP that Grey Factor, ever defiant, intentionally decided to shelve despite pleas for new music from fans. Bringing a few new members into the fray, the band embraced a more balanced fusion of rock and synth-pop and landed on a sound that resembles Joy Divison's Closer, albeit more decorated with bleeps and bloops. While Grey Factor may have never strayed far from their native suburbs of L.A., the band managed to beat most of the world to the punch on an aesthetic that would dominate the decade that followed. This 10-track compilation tells one of the greatest garage band stories of all time: give it a spin to uncover the mystery.