ALBUM OF THE DAY
Genocide Pact, "Genocide Pact"
By Ben Salmon · December 08, 2021
​
​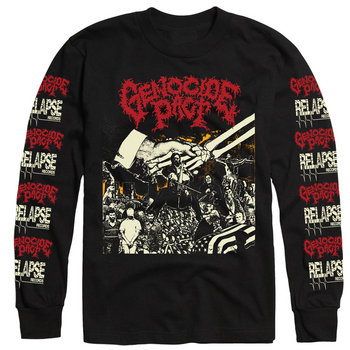 .
00:10 / 00:58
Merch for this release:
Vinyl LP, Compact Disc (CD), T-Shirt/Apparel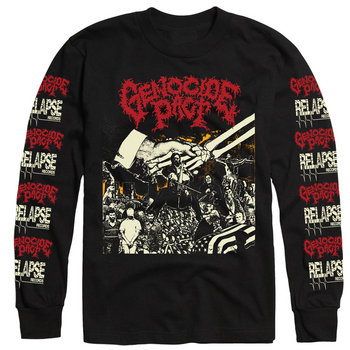 Genocide Pact has never exactly been a ray of sunshine. The Washington, D.C. death metal band's full-length debut, 2015's Forged Through Domination, introduced them as loyal disciples of the genre's giants—Bolt Thrower, Death, Morbid Angel—while the burly grooves of 2018's Order of Torment pointed straight back to Genocide Pact's hardcore past. Both albums are unmistakably old-school death metal: relentlessly miserable and/or pissed off, executed with filthy precision and eye-poppingly, heart-stoppingly heavy.
Given the state of the world since 2018, it is no surprise that Genocide Pact's new self-titled album, their second for Relapse Records, sounds every bit as brutal and bleak as its predecessors. "Living with a muzzle in your mind," guitarist/vocalist Tim Mullaney growls in "Perverse Dominion" as his band burrows into a merciless riff. "Like sheep looking upward, waiting to be fed/ Rotting from the inside as contagion spreads." That lyric is timely during a global pandemic, but the rest of Mullaney's targets on Genocide Pact are timeless: suffering and death; greed and oppression; isolation and the ever-tightening grip of technology on our lives. His words are mostly unintelligible, of course, but the band does an excellent job of soundtracking his state of mind with disorienting rhythmic shifts ("Fossilized Future"), jackhammer thrash ("Mutilated Vision"), groggy guitar solos ("Purged Flesh"), and an earth-razing low-end that extends for miles. If heavy times call for heavy music, then Genocide Pact is the right band for right now.