ALBUM OF THE DAY
Genital Shame, "Lion Piss + Arm Vulnerability"
By Leah B. Levinson · August 31, 2022
​
​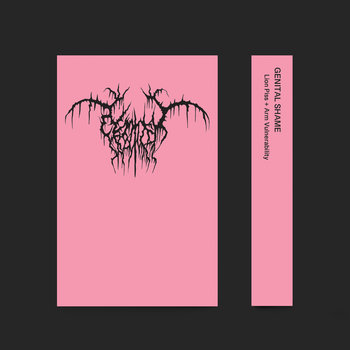 .
00:10 / 00:58
Merch for this release:
Compact Disc (CD), Cassette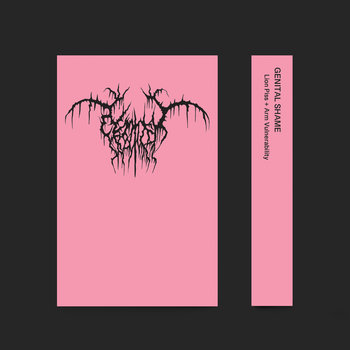 If you've been following news in the U.S. over the past several months, you're likely aware that the rights of transgender people have been under aggressive attack from conservative lawmakers. In addition to trans healthcare bans, investigations into parents of trans children, and statewide bans of queerness in schools, 18 states have passed laws restricting trans students from participating in school sports. Most appallingly, several of these states have intended to allow "genital inspections" of student athletes in any instances of "dispute" over a student's sex.
The idea of a "genital inspection" stems out of the common notion that a trans person's genitalia is a public matter (questions about "the surgery" and the reveal of genitalia abound in film and television). It's within this context that the name and spirit of Pittsburgh-based one-woman experimental black metal project Genital Shame is worth considering. With her debut EP Lion Piss + Arm Vulnerability, Erin Dawson puts forward a stunning 14 minutes of carefully crafted fury and catharsis as vibrantly hued as it is bloody, a triumphant reversal of the grim history that rests behind its name.
The EP's liner notes acknowledge Feminazgûl's Margaret Killjoy and Liturgy's Hunter Hunt-Hendrix as predecessors within the "emergent tradition of trans, queer, and nonbinary metal musicians." If there are sonic similarities to either of those forebears, however, it's only in small moments. Likewise goes for a bevy of other recent bedroom black metal experimentalists like Trhä, Old Nick, Anti-God Hand, and Violet Cold, for instance, who Dawson manages to stand apart from as much as each does from one another. Altogether, these mutations of black metal show just how varied the once stiflingly codified genre can be and how much expressive potential remains within it to be uncovered. Within this, Dawson's vocabulary is uniquely her own.
The album opens with a snakelike guitar counterpoint over a blast beat. This soon gives way to a slower quarter-note pulse that indulges one of the project's greatest strengths: Dawson's exploitation of the lo-fi aesthetics characteristic of raw black metal. Acting as the sole composer, producer, and performer, she utilizes the control available to her, toying with the texture of clipping guitars and cymbals, crafting melody out of the dissonant ambiguous tingle of distorted semitones clashing against one another. Across the EP, Dawson treats her own ideas as a sort of raw material, using both steady crossfades and sudden bursts to bind her disparate thoughts and present new forms and modern myths to our ears. The last vocal line heard on this EP's opening track "Gnostienne," for instance, is a bestial roar that steadily dissolves into the soundscape around it. In a few quick seconds it traces a transmogrification: a human becomes a monster then expands until she dissipates into the ether, becoming particles surrounding. Forever exploding and forever transcending, it's a whole new kind of transition with no body (and yes, no genitals) required.