ALBUM OF THE DAY
Galcher Lustwerk, "Information"
By Andrew Parks · November 21, 2019
​
​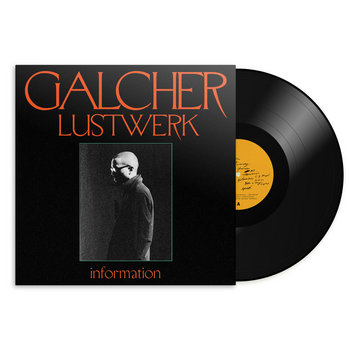 .
00:10 / 00:58
Merch for this release:
Vinyl LP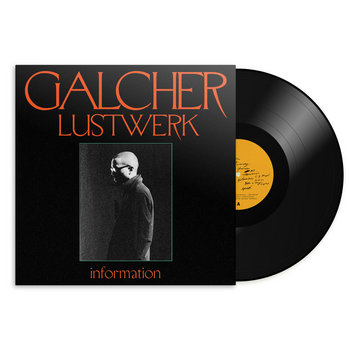 Considering how far he's come without worrying about press cycles or hype trains, it's fitting that Galcher Lustwerk's breakthrough wasn't a proper record—it was a word-of-mouth winner in the mix series Blowing Up the Workshop—a podcast that has racked up nearly 150,000 plays over the past six years. The deftly mixed 100% Galcher set was described as "some tracks and stems from 2012," a humble brag of a business card that set a high bar for Lustwerk's future releases, and established his role as an enigma in the underground club scene. A lot's happened since then, including promising (Studio OST) and playful (Road Hog) side projects and a string of solo efforts that bring his easygoing sound into full relief.
Information takes a slightly reticent step toward the spotlight, complete with a photo of Lustwerk on its sleeve and the backing of a much bigger label (Ghostly International) than the low-key imprint his RISD buddies (Dj Richard, Young Male) launched in 2012 (White Material). Their last drop was actually Lustwerk's debut album Dark Bliss, a scrappier, more elusive version of the fully formed visions on its follow-up.
Things start off slowly but surely with the palate-cleansing ambient pads of "Left in the Dark," but the record's BPM rate abruptly shifts on the supremely confident "I See a Dime." A mission statement of sorts, it finds the Cleveland-born, Brooklyn-based producer hyping himself up with mantra-like hooks ("I don't got a lot of time / I gotta grind / I gotta shine") and an airlocked beat that leaves the rest of us huffing and puffing, struggling to keep up with him.
The rest of the record follows suit with a film noir feel that leads us down lonesome alleyways and dimly lit streets, as if the faceless detective on the front of Dark Bliss decided to drop his Spy vs. Spy routine for a night on the town. He must be having a hell of a time, too, what with the way Information builds upon Lustwerk's hip-house beginnings with bold drum breaks, tightly wound techno, and moody jazz melodies. Not to mention his most varied work as a vocalist, from the spare chorus that cuts through the fog of "Fathomless Irie" to the central figure working the room in "Cig Angel." The latter is also recast in a dance mix, bringing Information to a close as the sun comes out and our hero slips out into the shadows once again.
–Andrew Parks