ALBUM OF THE DAY
Fake Fruit, "Fake Fruit"
By Ashley Bardhan · March 08, 2021
​
​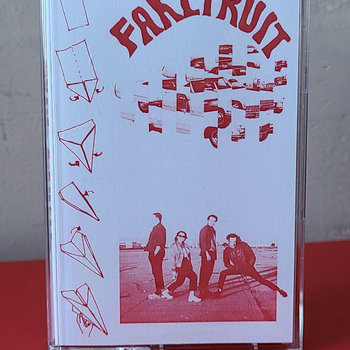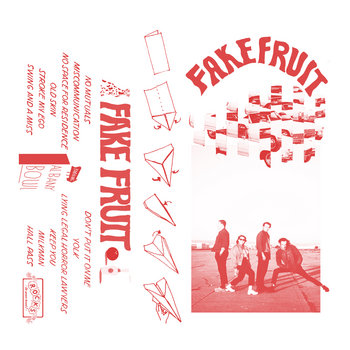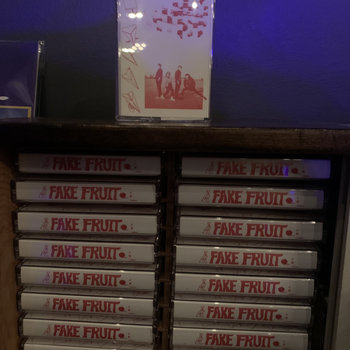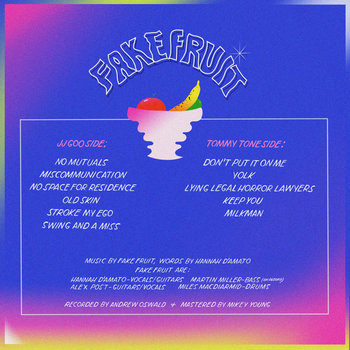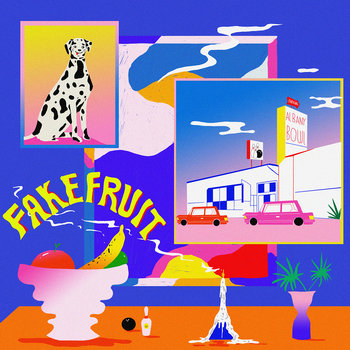 .
00:10 / 00:58
Merch for this release:
Cassette, Vinyl LP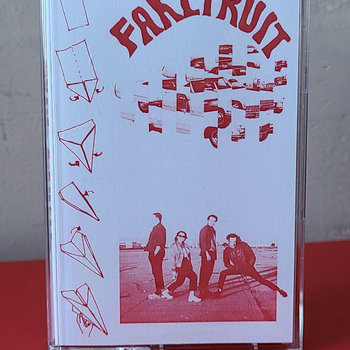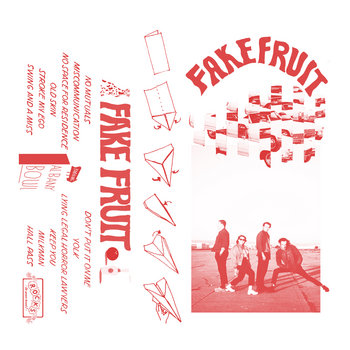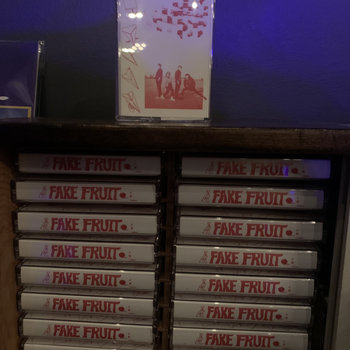 Looking at the illustrated blue and pink cover of Fake Fruit's eponymous debut album, a few things stand out. There's a Dalmatian with a smiling, shrunken face; a banana; and a daydreamy rendering of California's much-beloved, now shuttered, bowling alley Albany Bowl. That last one might lead you to believe that Fake Fruit is a California band, and you'd be right—sort of. Vocalist and guitarist Hannah D'Amato brought the Fake Fruit band name with her when she moved from New York to Vancouver and eventually, to San Francisco, playing focused post-punk shows along the way. But although the band's location and most of its roster have both changed since their first show in 2017, Fake Fruit sounds just as incisive and delightfully sour as the band's earlier DIY days.
Fake Fruit's songs land like a friend doing a stick-and-poke on your ankle: close, messy, a little pained. A lot of the songs find D'Amato in the thick of dissatisfaction (with life, with men, with the way she's perceived), often accompanied by prickly drums and watery guitars that break down into sloppy, angry tears. "Yolk" is one of these songs, with D'Amato declaring that her thoughts make her sick, her guitar splashing as she grows more vexed: "He says I'm funny/ I had a bad day." Some songs are funny in a bitter sort of way, like the sardonic "Lying Legal Horror Lawyers," in which D'Amato facetiously invokes "men's rights/…their plight," wishing people would "keep the mother in mind" instead. Even the album's softer songs have bite, like the pretty and brambled "Swing And A Miss," where Fake Fruit sighs farewell to a failed relationship. "It was a swing and a miss," D'Amato says, her words stinging like a descending series of puncture wounds, but "That's alright/ You didn't make me cum," she clarifies, crooning. Fake Fruit have established themselves on this debut as our new no-bullshit harbingers of disgruntled punk.