ALBUM OF THE DAY
Album of the Day: Empress Of, "Us"
By Amaya Garcia · October 23, 2018
​
​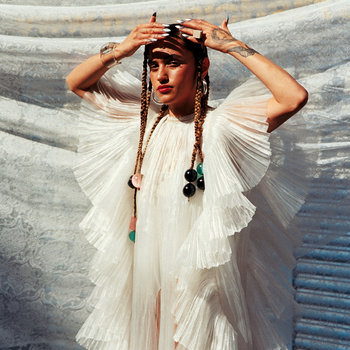 .
00:10 / 00:58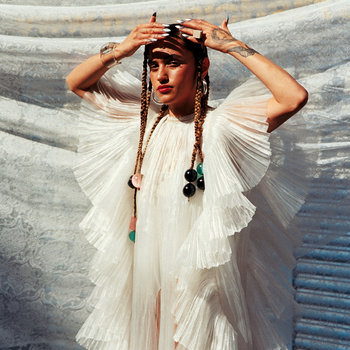 Lorely Rodríguez is one of the most compelling songwriters working in indie pop today. She's a true auteur, creating a singular but highly relatable world in which listeners can easily get lost—a metropolis where a perpetual summer shines a light on the sugary-sweet routines of lovers and the self-affirmations of those whose relationships have gone awry, and the tough women who take a stand, (painfully) laugh in the face of heartbreak, and happily rebuild their lives.
These stories, wrapped up in some of the most unconventional but highly infectious beats, are the most logical step after Rodríguez's intensely personal full-length debut under the moniker Empress Of. On her first effort, Me, Rodríguez holds up a mirror onto herself, chronicling the life-cycle of two relationships that have run their course. Her new album, Us, turns that mirror right back at the audience, providing a detailed, heartfelt canvas upon which listeners can project their own experiences. It's an invitation for listeners to distill their feelings and memories in communion and dance their way into a place full of empathy, not only for others, but themselves.
The record begins with "Everything to Me," a minimalist R&B jam underscored with Rodríguez's melodious crooning. The music is a playfully soothing backdrop for the microcosm she creates—a world of lovers talking about sweet nothings while sitting in a stoop under a rainfall. There's a palpable innocence in the way Rodríguez frames the scene, one that turns into weariness as each lover's quirks start becoming grievances. These are themes she circles back to during Us with different results. "Just the Same" and "Love for Me," both teeming with dancehall-flavored beats and airy synths, explore the familiarities and insecurities of falling in love, while the cool, beat-driven "I Don't Even Smoke Weed" and the bilingual, bubble gum pop of "When I'm With Him" deal with the patterns of longing for closeness and seeking understanding.
But the most powerful statements come during "Timberlands" and "I've Got Love." The first track, underscored by soaring synths and a minimalist but joyful electric piano, features Rodríguez owning awkwardness and constructing an armored suit for herself in a world that dreads aloneness. "I've Got Love" is a straight-up disco track, a toast for the love that is still left to give. Us is Rodríguez coming into her own as a singer, producer, and storyteller, ready to build the soundtrack of our dreams and our lives.