ALBUM OF THE DAY
Album of the Day: Devil Electric, "Devil Electric"
By Jeff Treppel · August 16, 2017
​
​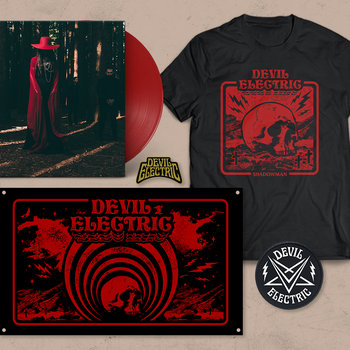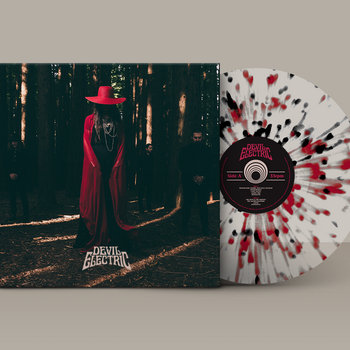 .
00:10 / 00:58
Merch for this release:
Vinyl LP, Cassette, Compact Disc (CD)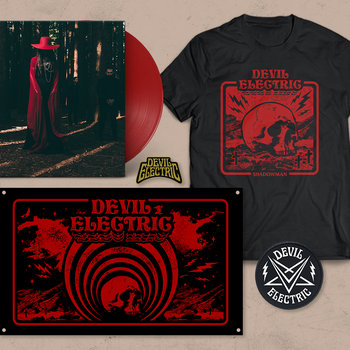 Australia isn't known for its swamps, but if there are any near Melbourne, that's where you would find Devil Electric. Murky and enigmatic, their old-school doom metal rises out of the bayou like a sultry bog witch, throwing an electric funeral for the Delta blues. They certainly aren't the first to inject that Southern swagger into classic metal. They just do it with a singular panache. The voodoo rituals on Devil Electric could make the dead get up and dance.
Pierina O'Brien's ominous figure on the cover recalls the mystery woman who adorns the first Black Sabbath record, and I suspect that's deliberate. Devil Electric don't exactly hide their Sabbath worship, but they also don't let it get in their way. Tom Hulse's bass intro to "The Sacred Machine" is pure Geezer Butler. Still, even on that song, Christos Athanasias's guitar work has a southern bite that distinguishes it from Tony Iommi's. And you would never mistake O'Brien for Ozzy Osbourne. Her throaty howl continues a blues rock lineage that stretches from Janis Joplin all the way to Royal Thunder's Mlny Parsonz and Blues Pills' Elin Larsson. Drummer Mark Van De Beek rounds out the quartet, his drums bringing a welcome swing that they lacked on their previous The Gods Below EP. Tom Glover's production makes it all sound devilishly heavy.
The thickness of the sonic gumbo wouldn't really matter if the songwriting wasn't catchy, but Devil Electric didn't neglect that ingredient. "Monologue (Where You Once Walked)" sets the tone perfectly, bouncing from foot to foot in mocking revelry. O'Brien's vocals on "Shadowman" ooze libidinous tension, "Lady Velvet" tightens the screws until the guitars explode into violence, "The Dove & the Serpent" uses the dynamics between the minimalist verses and fuzzed-out choruses to create an apocalyptic mood.
Much as Black Sabbath appropriated the blues in their own way, these Australians successfully take sounds that originated halfway around the world and decades in the past and make them their own. Satan, laughing, spreads her wings.
—Jeff Treppel