ALBUM OF THE DAY
Crime of Passing, "Crime of Passing"
By Kerry Cardoza · April 25, 2022
​
​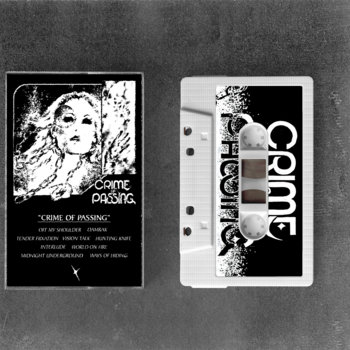 .
00:10 / 00:58
Merch for this release:
Vinyl LP, Cassette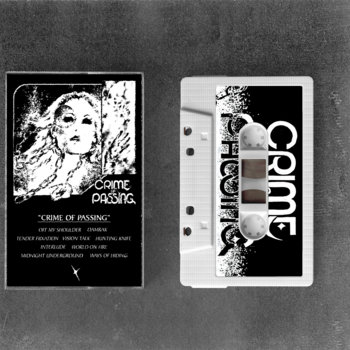 Crime of Passing's 2016 demo offered a cold, lo-fi take on post-punk, with buzzy keys, low, haunting vocals, and hard industrial drums. Three releases later, the Cincinnati band has morphed from a solo project into a five-piece, in the process embracing a fuller sound while carrying forward their unpretentious coldwave roots. On this stellar debut full-length, layers of sound expertly dance over one another, as on the slinky "Hunting Knife," with snippets of skronky horns, krautrock-style effects, and electronic drums. The songs are mostly new. Two show up on earlier releases, though these versions are brighter, clearer, as if glowing with white-hot energy. The record makes the case for proceeding slowly and steadily; the band sounds as if it's really had a chance to grow into a mature, cohesive unit.
These days, Andie Luman has taken over lead vocal duties from the band's founder Dakota Carlyle. She masterfully sets the mood of each track, from the whispers on the new-wave-y "Vision Talk" to the echoey cries on the eerie, hard-edged "Damrak." Crime of Passing often harks back to an early '80s sound, like on the darkly pop "Ways of Hiding"—not unlike Texas band Temple of Angels—but it does so without being kitschy. Luman's voice rings true; her words feel urgent and tinged with romantic desire, as if she's pleading with us to listen. If you were to catch a live show, I imagine the effect would be quite like this record sounds.
The band's take on post-punk isn't super polished, like a lot of other contemporary bands. But it doesn't get much closer to perfection than the one-two punch of the upbeat "Tender Fixation" followed by the mellow "Vision Talk," an earlier version of which was teased as a single last year. The former glitters with guitar harmonics, surfy riffs, and filtered, Karen O.-style yelps. It's infectious. Luman brings us low, with spoken utterances that sound as if they're delivered through an overhead speaker, and then high, with prolonged howls that rise above the instrumentation. The latter is quietly lush, with layers of bright keys, guitar, and bass that complicate Luman's pained vocals.
Crime of Passing shares members with The Drin and The Serfs, two other vibrant, eclectic Cincinnati outfits—and there is definitely sonic overlap here. Each band dabbles in the hypnotic electronic rhythms of krautrock, with a clear interest in complex elements of sound. It's clear that the city is emerging as a fount of a certain type of dynamic punk, with Crime of Passing and their cohort leading the pack.