ALBUM OF THE DAY
Album of the Day: Coriky, "Coriky"
By JJ Skolnik · June 18, 2020
​
​
Merch for this release:
Compact Disc (CD), Vinyl LP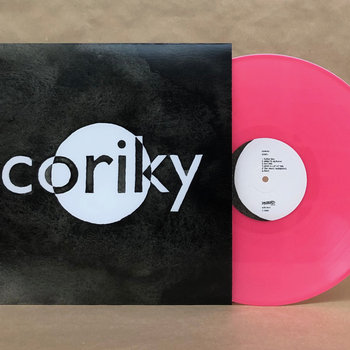 It's impossible to talk about Coriky without invoking their collective discography—yes, here are two members of Fugazi and one member of The Warmers, or two members of The Evens and one member of The Messthetics, or a husband and wife and a longtime friend, or Ian MacKaye and Amy Farina and Joe Lally. Their Bandcamp bio, in typical unpresuming fashion, reads that they are "a band from Washington D.C." All of these things are true.
If you're familiar with any of these other projects, the trio's self-titled debut will probably feel immediately comprehensible on a surface level. Farina's patient, clearly jazz-influenced drumming makes a perfect foil for Lally's bass, which loops and twirls around the drums at complementary and unexpected melodic and rhythmic angles. MacKaye's guitar here primarily serves as simmering texture, and the lyrics balance between oblique and polemic as his words have for quite a while now (as with The Evens, vocal duties are shared, and the lyrics seem to be a collective endeavor; they have a clear MacKaye imprint, though). Opener "Clean Kill" has perhaps the greatest lyrical impact; over a melody that feels jarringly cheery, the group conjures a snapshot of a drone pilot who's compartmentalized the deaths she's responsible for but can't erase her conscience entirely ("Not enough soap and water/ Never enough soap and water").
Anxiety, unease, and disorder show up in every single song on the album, even the most abstract ones ("Say Yes," "Too Many Husbands," "Jack Says"). The shadowy, slower "Have a Cup of Tea," which could feel like an odd piece out on an album for which the instrumentation is largely spritely, started feeling like a centerpiece to me after several listens. The lyrics reference taking responsibility for the sins of this nation that have benefited you, presumably as a white person ("It's in our house/ It's in our hands/ It's in our eye/ It's in our blood/ It's in our DNA"). No hand-wringing white guilt (or lack thereof) here, though; to be anti-racist, to be anti-imperialist, is framed accurately as an active choice ("What is grown/ Can be disowned/ It's not what you found/ But what can be found in you"). Back this up against "Last Thing" and "Shedileebop," both of which also clearly reference US militarism, plus "Clean Kill," and Coriky's source of anxiety comes into relief.
"Have a Cup of Tea" isn't the only place on the album where MacKaye revisits his youth, either. "Hard to Explain" finds him wrestling with an absolutist who won't let him move forward from his own past ("Your position, want me to fix/ Something that you said I broke in 1986"). Fugazi formed in 1986, and hardcore purists who prefer Minor Threat have been bellyaching since.
I saw quite a bit of Fugazi discussion on my timeline when the Coriky album announcement appeared—this is the first recorded collaboration between Lally and MacKaye since then. Growing up in the DC suburbs as a teen in the '90s, they were, of course, an immensely important band to me, and remain so. I don't want them to reunite, though; if they did, it would be contrary to the people I've always known them to be. These are not musicians swayed by market concerns, and nostalgia—as is clear on Coriky—is a trap. Of course the album—and the group—can't be read without their past, but it is their growth, the continued joy they find in playing with one another in different configurations through the years, the strength of their convictions, and the strength of their relationships with one another that make Coriky, well, Coriky.