ALBUM OF THE DAY
Cheer-Accident, "Here Comes The Sunset"
By Peter Margasak · February 23, 2022
​
​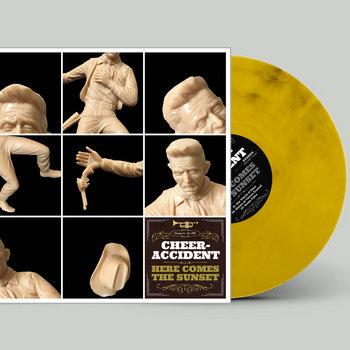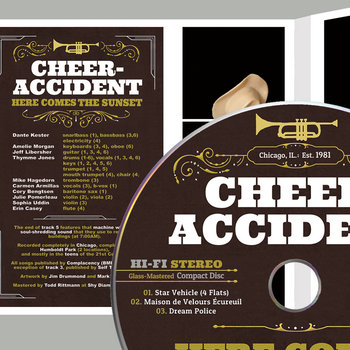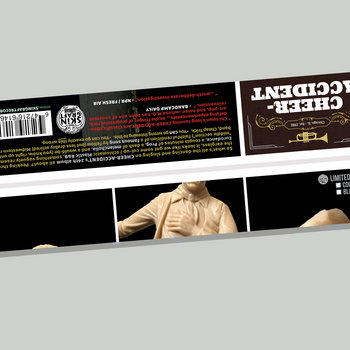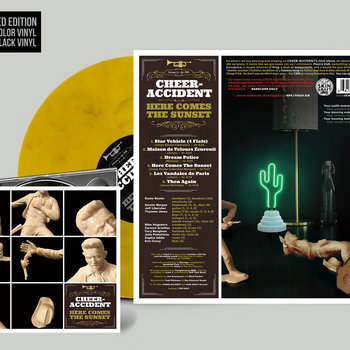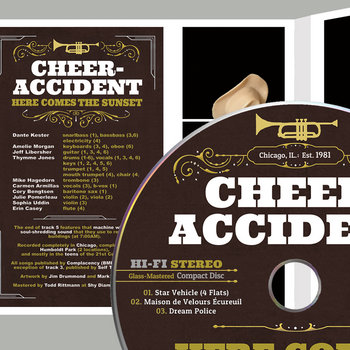 .
00:10 / 00:58
Merch for this release:
Vinyl LP, Compact Disc (CD)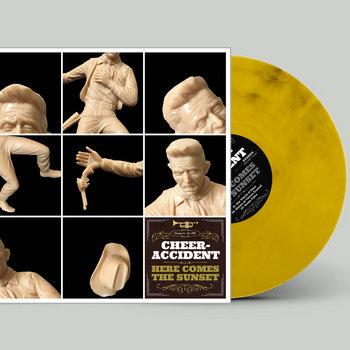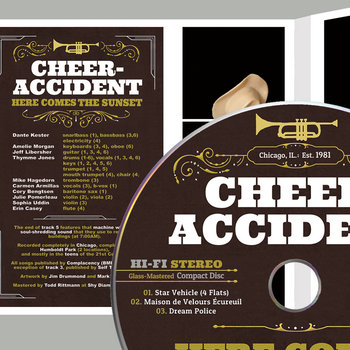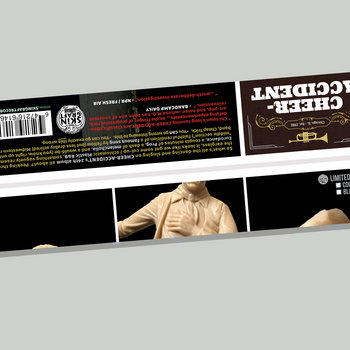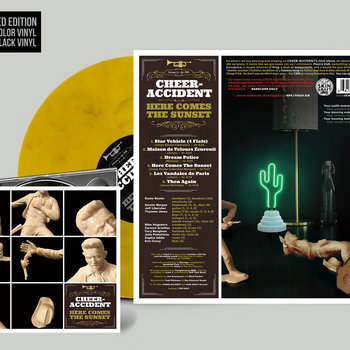 On its 24th album, long-running Chicago institution Cheer-Accident, helmed by singer/drummer/trumpeter Thymme Jones, reaffirms its position as one of the world's best prog rock bands. But for the ensemble, the stylistic markers of "prog rock" the genre are less important than being progressive in general. While the group has often incorporated wildly complex time signatures, elaborate arrangements, and breathless technical execution, Jones, guitarist Jeff Libersher, and an ever-shifting cast of collaborators are more interested in experimenting with new formats and approaches than strictly hewing to the hallmarks of prog. Over time they've produced hooky piano-driven pop, needling noise excursions, and, of course, ridiculously overwrought art-rock. The band has exhibited relentless craftsmanship and precision, but it has never taken itself too seriously.
The centerpiece of the new album, which the group worked on in fits and starts over the last decade—even as it released other albums—is a picture-perfect cover of Cheap Trick's "Dream Police." Naturally, Cheer-Accident goes beyond this masterful replication to extend the original's 30-second string-laden prog break with another couple minutes of excessively careening intensity, volume, and speed, as a dual act of absurdity and indulgence. That dichotomy is as essential as anything to understanding the band's modus operandi. The meticulous detail reveals a genuine love for the song, but that doesn't mean they can't make fun of it—and, in the process, themselves—by pushing toward the absurd.
On album opener "Star Vehicle (4 Flats)" they embrace a bizarre mixture of This Heat's post-industrial ferocity and David Bowie's angular funk (at times the song suggests an inside-out adaptation of "Fame," right down to Jones's lounge lizard croon), with an additional percussive track and electronic tones confusingly layered on top. "Maison de Velours Écureuil" serves up Eurodisco sparkle, with squelchy analog synthesizers tattooing a sleek groove on which Jones adapts Tony Allen's Afrobeat snare pattern beneath massed string lines played by Julie Pomerleau. The title track opens with a loosely meandering improvisation of spacey guitars, keyboards, and flute before folding into a catchy organ-soaked pop ballad heralded by pretty trumpet lines and a gorgeous vocal melody, both courtesy of Jones, who goes the extra distance by adding a "mouth trumpet" solo during the song's conclusion. A limber, cymbal-splashed groove opens "Les Vandales de Paris," a spacious instrumental which soon turns itself into a kind of moody Mark Isham film score accompanying a foggy pre-dawn cityscape. The relative normalcy of "Then Again" ends the experience with another beautiful melody. Considering that one of the band's recent albums layers improvisations atop field recordings made while walking around Hong Kong and another collection includes a warped cover of the Isaac Hayes classic "Shaft" it's impossible to say what's going to come next—just one more thing that makes Cheer-Accident truly progressive.