ALBUM OF THE DAY
Cate Le Bon, "Pompeii"
By Elle Carroll · February 02, 2022
​
​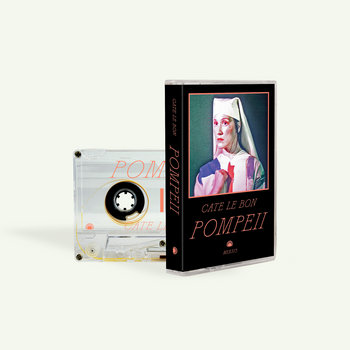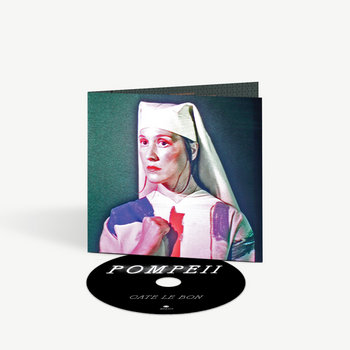 .
00:10 / 00:58
Merch for this release:
Cassette, Compact Disc (CD), T-Shirt/Apparel, Bag, Vinyl LP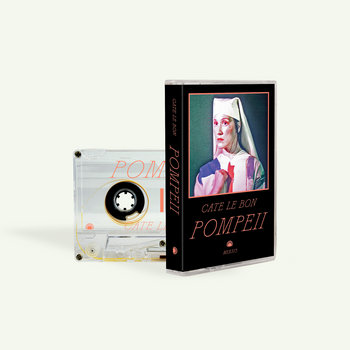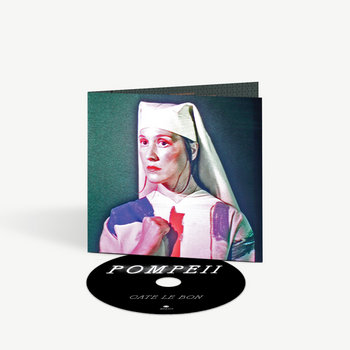 Cate Le Bon's eccentricities have a way of preceding her.
Sometimes this is by design. On the cover of her new album Pompeii, Le Bon appears in a structured headdress similar to a wimple, last en vogue circa the 14th century. Throughout the promotional campaign for 2019's Reward, she repeatedly discussed the intricacies of the Bauhaus-style chair she designed and built to accompany the record. Her songwriting and guitar work has been defined by its uncanny dislocation from traditional categories for years; she's psych, she's arty, she's post-punk, she's minimalist, then she's all and none of the above, depending on the day and the record.
Mentions of Le Bon typically come prepackaged in a short, near-unchanging list of adjectives: "absurd," "surreal," "experimental." Pompeii is all of these things in places, and only not quite in others. Her trademark weirdo streak feels, at least by her metrics, almost subdued here, splitting focus with a doggedly singular melodic cohesion—she told Pitchfork she wanted "to make everything sound as though it had been made in the same day." She succeeded.
Again, that is to say her weirdo streak is subdued, never absent. Le Bon's poetics of the absurd figure each time Pompeii's imagery seesaws between the ephemeral and concrete. Amidst the womp-womp synth sludge and tinny rhythmic tap of "Remembering Me": "I wore the heat like/ A hundred birthday cakes/ Under one sun." Pompeii exists in "cities built on monumental rage" in a "season of ash" under a "peacock moon." She's always opaque, never dull.
Pompeii's gauzy synths and thickened basslines are decidedly earthen, and co-producer Samur Khouja's commitment to hanging those basslines squarely in its middle gives the record an undeniable gravity. To counterbalance some of its weight, Le Bon shifts into a pop prance on "Harbour" and the New Wave-y "Moderation," longtime collaborator Stella Mozgawa in tow to sandwich the groove right in between her bass drum and her high hat. The result is intriguing and irresistible.
Le Bon's uncompromising artistic streak, in play long before Pompeii, is precisely what makes this album's distinct and unshakable artistic confidence so remarkable. If Reward was Le Bon's ascent to the height of her powers, then Pompeii is her setting up camp at the summit.