ALBUM OF THE DAY
Candy, "Heaven Is Here"
By Mia Hughes · June 24, 2022
​
​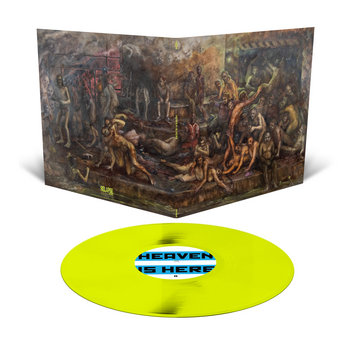 .
00:10 / 00:58
Merch for this release:
Vinyl LP, Cassette, Compact Disc (CD), T-Shirt/Shirt, Sweater/Hoodie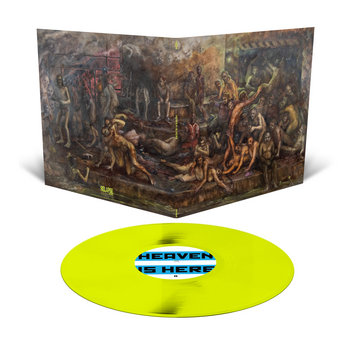 Heaven Is Here, the title of experimental heavy band Candy's second album, serves less as a straightforward statement and more as a signal that the opposite is also true. If heaven can arrive on Earth, then so can hell—a philosophy the Richmond band translate into harrowing sounds from start to finish. "Human Condition Above Human Opinion" introduces the album not by chords or melodies but with a flood of electronic noise that bears an uncanny resemblance to a tortured human scream. On the title track, vocalist Zak Quiram sums up the album's landscape: "I'm burning in hell/ The hell of myself." 
In terms of scene and easy categorization Candy are most often described as hardcore; they've toured with heavyweights like Every Time I Die, Terror, and Knocked Loose. But their musical reality is more complicated than that. On Heaven Is Here, the songs's basic framework loosely fits within hardcore, with blast beats, low-tuned buzzsaw guitars, guttural vocals, and breakdowns galore. On the other hand, their dynamics forgo punk's unrefined presentation, instead favoring a primal, disturbing atmosphere. Candy's frequent use of electronics and harsh noise push these songs further into aural hellishness. On "World Of Shit," a squall of noise that sounds like a drill bearing into your skull intermittently interrupts the music. "Kinesthesia" is an industrial track that evokes disorientation and panic. And "Perverse" closes the album with ten minutes of harsh noise that feels endless and hopeless. They're testing the limits of listenability, but it never seems to be about shock value or even the simple fun of experimentation. There's an urgency to this heaviness; it's unpleasant and difficult to sit through because it needs to be.
That goes for Quiram's lyrics as well, a grim forecast for humanity built on nonstop sonic brutality. Fueled by disgust, guilt, anger, and lust, he deconstructs the horrors of the world around him, be they visceral, systemic, or some combination of the two. He directs most of his revulsion towards late-stage capitalism; "Human Condition Above Human Opinion" refers to  "privileged class terrorizing," while "Fantasy/Greed" denounces "Parasites in a human disguise/ Weaponizing class in the name of crime." Lest Quiram's political rage come across as righteousness, he considers himself—and every human being, for that matter—just as cursed because, as he admits on "Price of Utopia," "Our population brings disaster." It's a declaration that, like the rest of Heaven Is Here, reads less as a call to action or personal confession and more as an attempt to trap the listener in their calamitous, despaired universe. Candy isn't seeking out our empathy or approval. They just came to remind us that their hell is our hell, too.