ALBUM OF THE DAY
Album of the Day: BROOKZILL!, "Throwback to the Future"
By Christina Lee · October 07, 2016
​
​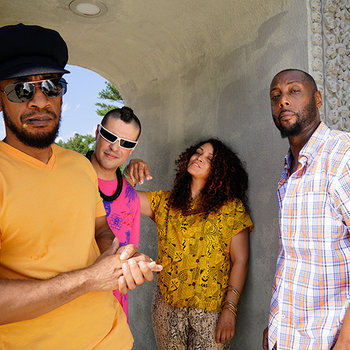 .
00:10 / 00:58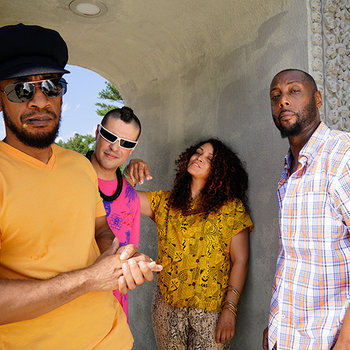 The lively and invigorating debut by BROOKZILL!, Throwback to the Future, is also a necessary reminder of how hip-hop can still brim with possibilities. Three of its members (Prince Paul, Ladybug Mecca of Digable Planets, and Don Newkirk) are veterans of the genre's New York past, when their jazz-rap experimentation pushed hip-hop beyond standard '80s machismo. Yet they sound at home with Rodrigo Brandão, who raps under the name Gorila Urbano out of Sao Paolo, Brazil. In interviews, the MC stresses the commonalities between hip-hop and the tambor drum circles of Candomblé ceremonies—proof of Brazil's growing West African population.
All four members in the collective seem to thrive on finding common ground. On "S. Bento MC5," a total of five Brazilian rappers pay homage to A Tribe Called Quest's boomtastic cypher session "Scenario." Not only do they lift the hook's boisterous rhythm, but they also shout out the Zulu Nation and other New York rap luminaries like director Spike Lee, who made a cameo the "Scenario" video back in 1991. What ends up feeling more significant, though, is how easily the sly, slick-tongued Ladybug Mecca takes to revisiting Brazil: She kicks off swampy opener "Macumba" by rapping from the perspective of a rebel daughter (herself, perhaps) in pursuit of her destiny. For the rest of the album, she rhymes and chants in Portuguese—her first language, as the child of Brazilian parents. The raspy-voiced Brandão rhymes with precision right back at her. Dramatic horns and urgent woodwinds cry out over thick dub beats, backing both Brazilian singing icon Fafá de Belém and American guests like Del the Funky Homosapien.
Some hip-hop veterans have a tendency to romanticize the way the genre used to sound, huffing and fretting when the new generations of rappers fail to give New York its due. Not BROOKZILL! Throwback to the Future has some of the genre's most experienced players looking forward—embracing the way hip-hop can inspire and evolve, taking on unexpected forms in the process.
—Christina Lee