ALBUM OF THE DAY
Album of the Day: Bellini, "Before the Day Has Gone"
By Brad Cohan · July 31, 2018
​
​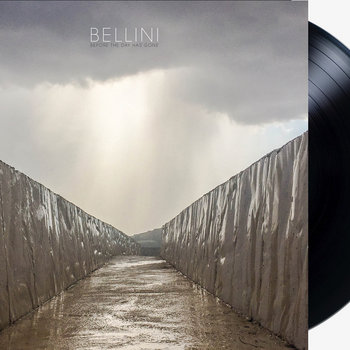 .
00:10 / 00:58
Merch for this release:
Vinyl LP, Compact Disc (CD)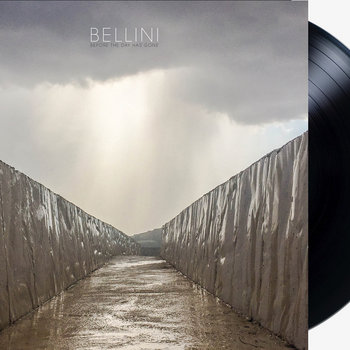 Throughout the '90s and early '00s, math rock—a mostly all-instrumental hybrid of razor-sharp mechanics, crushing post-hardcore sonics, and dizzying time signatures informed by progressive rock, metal, and jazz—was all the rage in the indie underground. Bands like Don Caballero, OXES, Drive Like Jehu, Craw, and Dazzling Killmen put angular sounds on the map, then vanished, save for sporadic reunion shows, reissues, or reinventions (like Don Cab's latter-day second act).
Lifers like Shellac and Bellini have pressed on. Kindred spirits of sorts, the Chicago-based, Steve Albini-led trio and the Italian/American four-piece have traced similar paths over the last two decades. Both bands fastidiously—and unapologetically—bang it out, old-school '90s-style, offering an off-kilter assault of nails-on-chalkboard riffs, locked-in bass and drums grooves, and speak-scream vocals—part math rock smarts, part post-punk angst with DIY heart-on-sleeve.
Nearly 10 years separates Bellini's The Precious Prize of Gravity and their latest Before The Day Has Gone, and in that period, the veteran unit—with members spread out across the world in Italy, Texas, and New York—sound as tightly knit as ever, ratcheting up the mangled string-bending, ear-piercing dissonance, neck-snapping rhythms and emotive energy that's been their M.O. since their 2002 debut, Snowing Sun.
Fittingly recorded by Albini (he's presided over every Bellini release since day one), Before The Day Has Gone showcases vocalist Giovanna Cacciola, guitarist Agostino Tilotta, and the rock-solid rhythm section of bassist Matthew Taylor and Girls Against Boys drummer Alexis Fleisig in the finest of jagged and in-your-face form.
Caught on tape by Albini back in 2012 but only now seeing the light of day, Before the Day runs the gamut, from knotty math-metal and scorched-earth punk rock to psychedelic noise tripping. With spazzy guitars and thrashing beats cranked up to ten on opening track "Greek Fire," Cacciola—one of the most overlooked and unique singers in underground rock—spews out mostly undecipherable fragmented spit 'n' vinegar in her heavy Italian accent. "Don't be scared / You should not be scared of me," she wails on "Greek Fire" before launching into rippers like "Clementine Peels," "Plumber's Foxtrot," and "Being Married." With Shellac gearing up for a late summer/fall tour and Bellini making their triumphant return after a decade-long absence, it's high time to nerd out on math rock again.