ALBUM OF THE DAY
BADBADNOTGOOD, "Talk Memory"
By Blake Gillespie · October 19, 2021
​
​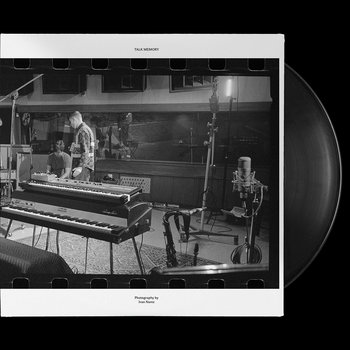 .
00:10 / 00:58
Merch for this release:
2 x Vinyl LP, Compact Disc (CD), Cassette
BADBADNOTGOOD got to where they are—at least in part—by disobeying their teachers. Their professors at Humber College in Toronto damned their 2011 viral video The Odd Future Sessions, Pt. 1, claiming it lacked musical value. Tyler the Creator felt differently, praising the video on Twitter. Eventually, the group's simple act of musical disobedience led to collaborations with Ghostface Killah and Louis Vuitton, Grammy nominations, and the role of Frank Ocean's backing band at Coachella in 2012.
Fans of the group's records can often get chin-checked by their live improvisations; Talk Memory is an attempt to bring the two sides of the group's personality into focus. The album opens with 18 seconds of gear hum—a reflection of the group's desire to convey a "live" feel on the album—before "Signal From The Noise" kicks in. With an assist from Floating Points, the group creates a space where improvisation is encouraged, resulting in a massive trip of cascading drum rolls and heavy shredding that evaporates into hypnotic keys. Their foray into pop music has taught them emotional nuance: "Love Proceeding" is a tender place of '70s cinematic soul, with string arrangements from legendary Brazilian composer Arthur Verocai—essentially a fourth band member on Talk Memory—adding effervescence.
Appearances from saxophonist Terrace Martin and harpist Brandee Younger on "Talk Meaning" could be read as subtle notes to their former instructors that yes, they were listening after all. In the end, Talk Memory is both a meditation on what they might have become had they stuck to the curriculum, and what they could only have become by rebuking it.