ALBUM OF THE DAY
Armand Hammer & The Alchemist, "Haram"
By J. Edward Keyes · March 30, 2021
​
​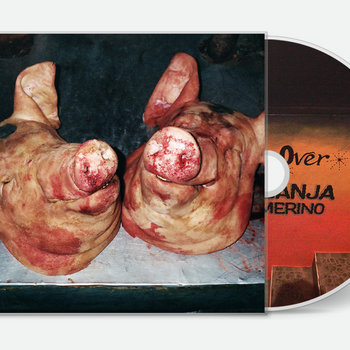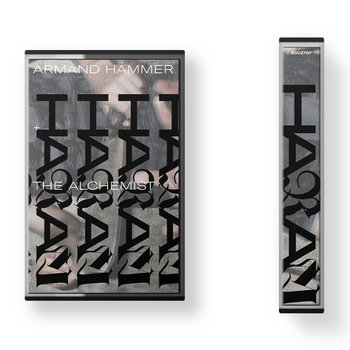 .
00:10 / 00:58
Merch for this release:
Compact Disc (CD), Cassette, 2 x Vinyl LP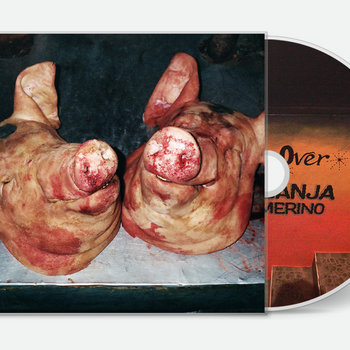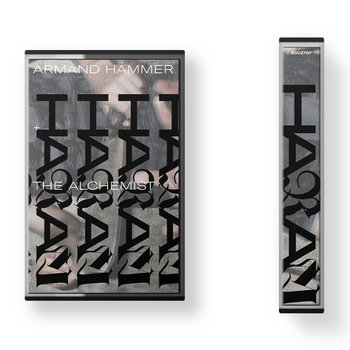 Every new record from Armand Hammer—the duo of billy woods and ELUCID—feels like a Japanese puzzle box. They arrive sleek and impenetrable; no visible entry points, no levers or switches, no obvious way to access them. The only way to get inside is to keep turning it over in your hands, testing the edges and looking for spots that make the seams give, to get you a few steps closer to discovering what's inside. The duo write dense, dizzying verses, every word layered with subtext. Cracking open the significance of the hundreds of reference points can be a Herculean task; if you tried to diagram out a single song, your footnotes would have 27 footnotes.
A glance at the attribution on Haram—the duo's fourth album in seven years—seems to hint at greater accessibility. The album is credited not just to Armand Hammer, but also to The Alchemist—the California producer who has worked with Eminem, Nas, and Snoop Dogg. But even that turns out to be a misdirect; Alchemist has spent recent years behind the boards for underground artists like Boldy James, Freddie Gibbs, and the Griselda collective, and on Haram, he doesn't try to force woods and ELUCID into something hooky and ill-fitting. Instead, he warps and blunts his own style to mirror the claustrophobic productions of Armand albums like Paraffin and Shrines. The latter, which arrived last summer, was a grim tour of late-stage capitalism, its title a reference to the private utopias people try to build for themselves when the world around them offers no respite. On Haram, Woods and Elucid fixate on duality, dichotomies, and relativity; clean vs. unclean, thought vs. action, perception vs truth. Two songs employ the phrase "iridescent black"—an iridescent object being one that changes color depending on where you're standing when you look at it. A vocal sample at the start of "Aubergine" references people who see things that aren't there, and David Lynch turns up near the end of "Falling Out the Sky" to discuss the useful ways daydreams can distort reality.
That fixation on the slipperiness of perspective extends to the album's arresting cover, about which woods recently told Okayplayer, "It's repulsive, to a certain extent…[but] there's something almost painterly about it to me." There's also another, more provocative way to read that photo, one that seems directly linked to the queasy, ominous "Chicharrones." "You gotta kill the cop in your thoughts," Woods raps over a dopamine beat and haunting keys in the song's opening moments, before spinning out into another juxtaposition: "[People] say they hate the cops/ But the minute something's off/ They wanna use force."
Alchemist keeps the mood subdued and anxious; "God's Feet" is low-lit and noir-ish, a spiral of eerie keys wreathing Woods's voice like cigarette smoke; "Wishing Bad" mingles a minor-key piano phrase with far-off sax and ghostly choral vocals; "Robert Moses"—which lifts a potent sample of dialogue from the Paul Schrader film First Reformed (2017)—is bleary, mournful, '70s jazz.
All of this is skillful scene-setting for woods and ELUCID's dialogue, and their unconventional style feels even deeper and more profound here. What they're doing feels unprecedented. Artists like Ghostface spin up a dizzying barrage of free-associated imagery as a way to create a loose visual mosaic— "Shakey Dog" is designed to make you feel like you're in the room when the events Ghost is describing are happening. Woods and ELUCID are after something else; they want you to branch out from the starting points they give you and consider the significance of their word choice—even a punchline like "I put a neat hole in Indiana Jones' fedora" feels like it carries with it decades of significance.
All of this may make Haram sound like it's a term paper set to wax—it's not. There are more than a few expertly-timed laugh lines (My favorite: "Don't believe me? Just watch… my chakras"), but most of those arrive amidst dense, marvelous thickets of prose. The lyric, "The transcript read like Cam'ron skits" is a funny one, but then you telescope out to realize the transcript woods is referring to is a court proceeding, and he's on the bench, waiting to be executed; the laugh catches in your throat. (He follows with "It's always two sides to the story," again returning to the idea of the elusiveness of meaning—and perhaps also the hypocrisy of the U.S. criminal justice system.)
They've enlisted a murderer's row of guests—Earl Sweatshirt, Quelle Chris, Fielded, and Curly Castro are just a few—but the focus throughout Haram remains on woods and ELUCID, who nail every line with the calm precision of trained marksmen. The album ends with "Stonefruit," a song built on a joyous, hymn-like musical backdrop with twirling pianos and brittle stabs of guitar, over which woods raps, "Marginalia busy with symbols and equations/ The story too simple to calculate it." That's Haram in a single verse: You can take reams of notes, but the key to unlocking the puzzle box will always remain tantalizingly beyond your grasp. So you do the only thing left to do—the only thing you want to do: you pick the needle up off the record, and start over again at the beginning.