ALBUM OF THE DAY
Aquiles Navarro & Tcheser Holmes, "Heritage of the Invisible II"
By Marcus J. Moore · October 21, 2020
​
​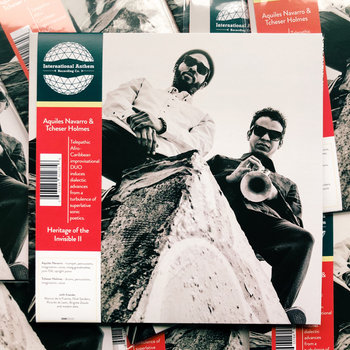 .
00:10 / 00:58
Merch for this release:
Vinyl LP, Compact Disc (CD)
If you've heard Irreversible Entanglements, the critically-acclaimed liberation jazz quintet that formed in 2015 after a rally against police brutality, then you've heard trumpeter Aquiles Navarro and drummer Tcheser Holmes, whose searing wails and driving percussion help give the band its raging sound. Alongside bassist Luke Stewart, saxophonist Keir Neuringer and vocalist Camae Ayewa (who releases solo work as Moor Mother), Navarro and Holmes use their instruments to take on law enforcement, capitalism, racism, and American politics. While their new album, Heritage of the Invisible II, isn't overtly political, it's a revolutionary LP celebrating Latin and Afro-Caribbean influences through intricate drum and brass arrangements.
Long before they met the other members of Irreversible Entanglements, Navarro and Holmes worked as a duo, developing creative synergy in various clubs throughout New York City. Their first album, 2014's Heritage of the Invisible, was recorded live in Panama and quietly uploaded to Bandcamp. The music felt loose and improvised, as if Navarro and Holmes went into the gig without traditional song structures. The sequel is equally unscripted, a mix of dance, jazz, and progressive music that broadens the scope of their previous album. Through darting synths and unrelenting rhythm, it adheres to the past and present without settling on one genre.
Heritage of the Invisible II is more forceful than its predecessor. With quick drums and sporadic trumpet blasts, songs "Initial Meditation," "Father" and "NAVARROHOLMES" unfold with the seething intensity of industrial rock records. Other tracks are more festive: "Pueblo" has a sauntering Latin groove with sultry trumpet chords, while "A Night In NY" launches into a two-stepping beat before shifting to a frenetic drum break. Therein lies the strength of Heritage of the Invisible II, a bold album that properly honors two distinct cultures. Releasing such courageous work is another form of protest.